Cooking is a skill that takes time, knowledge and the right tools. Half of the battle is knowing how to properly use all of your kitchen equipment. Pots and pans are pretty straightforward for the most part, but what about the more complicated stuff? In this article, we will help all of you understand how to use a wok and why they are so great to use once you have mastered them.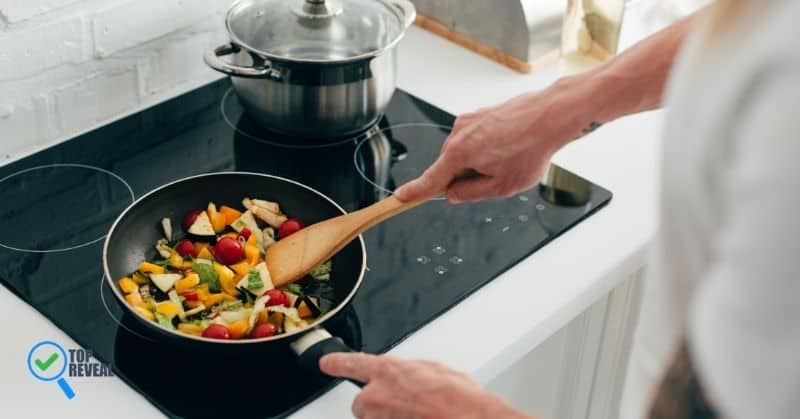 When you say the word wok, there are a lot of people who will immediately think of a Chinese restaurant. Now it's time to set the record straight. A wok is a large and round-bottomed cooking vessel that can be used for a variety of dishes. Originating in southern China, they can be used for dishes ranging from stir fry to smoking nuts. What makes them intimidating is the care and attention they need in order to be used properly. With this guide, we will help you to overcome your fears and gain confidence in the kitchen.
Wok Basics – 101 Lessons
Let the education begin. To start with, there are different types of woks. Take a second to think about how many people you usually need to cook for. If you have a family, you may want to get the biggest wok you can find. But if it's just you, then consider one that's a bit smaller. There are also different shapes. Some have the traditional rounded bottom, while others are flat.
The latter will cook quicker as there is a larger surface that actually touches the burner. Lastly, consider the material used. Some people prefer the slickness of copper, while most would probably choose the strength of a carbon steel wok. Once seasoned, the carbon steel wok will have a natural nonstick surface.
Source: Partselect.com
How to Use a Wok on an Electric-Stove Steps by Steps
1. First, you can make sure that your wok bottom is flat for your electric stove
2. Turn on the "Heat" level as high as you can to heat up the wok
3. Add Oil to oil up your wok
4. Add your Ingredient
5. Make sure that your wok is not rotating or leaving the e-stove.
How to Clean a Wok After Use?
Now that you've picked out your wok, it's time to learn how to actually use it. Firstly, you will have to season it before you start cooking. You need to scrub the inside of the wok with steel wool, hot water, and soap. Once it is dry, preheat it on high and add 3 Tbsp. of vegetable oil, ½ cup of sliced fresh ginger, and 1 bunch of scallions cut into 2-inch pieces. Stir fry the ingredients for 15 minutes over medium heat. Afterwards, you will need to rinse it with a soft sponge and some hot water. Once you dry your wok with a terry cloth, you are good to go!
There are also some great tips and tricks to maintaining your carbon wok. When cooking, try to use either canola or peanut oil. These can handle the heat without burning. To cook the ingredients evenly, do your best to cut them into uniform pieces. Be sure to completely dry shrimps, scallops, and vegetables before adding them into the mixture. You'll know it's time to start stir-frying when the wok begins to sizzle. To toss the ingredients, you would be better off with a wide metal pancake turner, that way you cook everything evenly. After using the wok, always be sure to wash it with some hot water and a soft sponge.
As I'm sure you know, stir fry is the most popular dish made with woks.
Wok Recipes
As a guide to this Oriental cooking vessel, here are a couple of fun recipes to get you started.
Carribean Jerk Chicken Stir-Fry
 This first one is for all you spicy lovers out there; a Caribbean jerk stir-frystir fry. You will need: 1 Tbsp. vegetable oil, ¼ cup sliced sweet onions, ½ cup plum sauce, 1 red and 1 green bell pepper cubed, ¾ skinless, boneless chicken breast cut into strips, 1 Tbsp soy sauce, 2 ½ tsp. Caribbean jerk seasoning, and ¼ cupu roasted peanuts, chopped.
First you will want to heat the oil over medium-high heat. Cook the peppers and onion until they are slightly tender. Remove them and add the chicken and jerk seasoning, then cook until it's no longer pink. After that, add the plum sauce, onions, and bell peppers. Cook until all of the ingredients are heated and then sprinkle on the chopped peanuts and soy sauce.
Rice with Chicken and Broccoli
For those of you who just want a simple stir-fry recipe to start off with, this is for you. What you will need are 2 cups of white rice, 3 skinless, boneless chicken breast halves, thinly sliced, 4 cups of water, 1 tbsp of sesame oil, ⅔ cup soy sauce, 1 green bell pepper sliced, ¼ cup brown sugar, 1 (8oz) can of sliced and drained water chestnuts, 1 tbsp of cornstarch, 1 head of broccoli broken up into pieces, 1 tbsp of minced fresh ginger, 1 cup of sliced carrots, 1 tbsp of minced garlic, 1 onion cut into large chunks, ¼ tsp of red pepper flakes, and 1 tbsp of sesame oil.
You will want to first bring the rice and water to a boil over high heat, and afterward let it simmer on medium-low for about 20-25 minutes. In a small bowl, combine the brown sugar, soy sauce, and cornstarch and stir until smooth. Then mix in the garlic, ginger, and red pepper until you have a sauce.
Coat the chicken with the marinade and refrigerate it for 15 minutes. Heat 1 tbsp of sesame oil in your wok over medium-high heat. Cook and stir in the bell peppers, water chestnuts, carrots, broccoli and onions until they are tender, which would be around 5 minutes. Once they're tender, remove the vegetables and keep warm. Take the chicken out of the marinade, but be sure to save the leftover sauce.
Cook the chicken until it is slightly pink on the inside which will take about 2 minutes. Once they're pink, add the leftover sauce and vegetables to the wok. Keep cooking until the chicken is no longer pink; this should take around 5-7 minutes. Once it's done, serve the mix over the rice and you have yourself a traditional stir-fry made with your very own wok!
Now that you have finished reading this article, you are armed with the knowledge of how to successfully buy, treat, and cook with a new wok. Say goodbye to your cooking anxiety and embrace your newly learned wok skills. Once you get the hang of it, you can start experimenting with ingredients and different stir fry recipes. So start cooking!