Decorating a sideboard is a great way to give your home an instant update. Whether you're looking to add character and style to an existing piece or purchase something new, there are plenty of ideas that will help you create the perfect look in any space.
From choosing the right colour scheme and accessories to painting and hanging artwork, this guide outlines all the steps for creating a stunning sideboard display.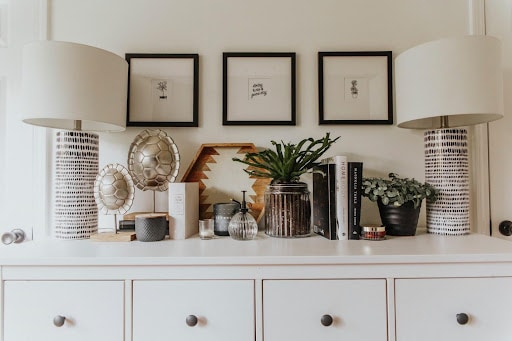 Choose a Style
One of the key elements of successful sideboard decorating is finding the right style for your room. Start by considering the existing design elements such as furniture pieces, wall colours and decorative accents to ensure that whatever you choose will look cohesive when placed in the space.
And check out different styles and colors from quality bands like the buffet tables at Zanui Australia. Next, decide on the type of material you'd like your sideboard to be made from – wood, metal or glass are popular options – and pick out some stylish handles if you'll be replacing an existing one.
Finally, choose a colour scheme that will complement everything else in the room.
Measure Up
Before purchasing or beginning any decorating work on a sideboard, it's important to measure up correctly. Measure the available space in your room and make sure that whatever size sideboard you go for fits comfortably without making it too cramped or overwhelming.
If possible, try placing objects around it such as chairs and other furniture pieces so that you can get an idea of what it will look like once everything has been put together.
Paint or Stain It
To give your existing sideboard an updated look or breathe new life into a neglected piece, consider either painting or staining it.
Painting is a great way to add colour while staining can bring out the natural beauty of wood grain patterns and dark tones which may have previously been hidden away beneath layers of dirt and dust.
Make sure you use appropriate products designed specifically for furniture items when completing these tasks – this will ensure lasting results for years to come!
Accessories
Once your sideboard has been painted or stained (if necessary) it's time to start adding accessories! This could include anything from vases filled with flowers or greenery, bookshelves full of literature favorites and storage solutions such as baskets.
Just make sure they all fit within the overall theme or colour palette that has been chosen for the space. Adding small home décor items such as candles or sculptures can also be a nice touch. These can be moved around easily whenever there's a desire for change!
Hang Artwork
Artwork is another great way to add personality to any room. But when hanging above (or near) your sideboard, make sure that all pieces are hung at an appropriate level so they don't overpower other items in the room without offering enough breathing space between them all.
Framed prints are often considered best here as they can easily be moved around with ease thanks to their lightness. Whilst canvas paintings tend to require more attention due their heavier weight (and therefore more effort).
Add Greenery
Greenery is always a welcome addition when decorating any room – plants help bring life into spaces while adding pops of vibrant colour as well as providing physical benefits too!
Place plants on top of your sideboard – succulents often work well here due their low maintenance care requirements – then sit back and enjoy how much better everything looks with some fresh foliage about!