If it's one thing we all learned from the recent lockdowns and quarantines, it is that our home is key to our happiness and comfort. After a long, hard day at work, there is nothing better than coming home to a place you find peace and solace in. But, sadly, for most of us, our homes can often be neglected. This is understandable. You come home tired, have limited time on your hands, and just can't seem to afford the time it takes to spruce up your home. Time is precious, so when you do have free time on your hands, home improvement projects can help you enjoy your future free time to its fullest and turn your home into a sanctuary. Read on for some simple but effective tips for your next home project.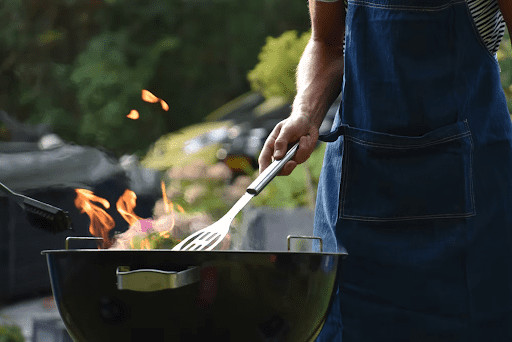 Outdoor Grill and Barbeque
If you have an outdoor space, one of the best ways to spruce it up and give your home a second life is by fitting it with a grill and creating a new hangout space. We usually think 'indoors' when we think of home, but creating a second home is easy, fun, and can even be delicious. If you have a yard, get a few lawn chairs, put out some speakers for music, and maybe even a few LED string lights. This coupled with the grill will turn your yard into a prime location for social gatherings. Outdoor grills can vary greatly in price; to save money, consider a standard metal grill that uses coal as a heat source. It's classic, affordable, and, quite frankly, creates a taste you just can't beat.
Home Theatre
Who doesn't love a movie night? We all love going to the theatre, getting our popcorn on, and watching the latest Hollywood has to offer. But as fun as the movie theatre experience is, it can come at a hefty price. Forget overpriced candy and ten dollar popcorn! Create your own home theatre and enjoy movie night to the fullest. To create a home theatre, save money on large sized TVs and get yourself a top quality projector and aim it at a nice flat surface for the ultimate home screen. Selecting the right projector for you isn't difficult. The variety of options found at Projector Finder will give you better insight to the options available, which can narrow down your choices based on budget, resolution, and usage environment. Set up some comfy seating options, grab the food or snack of your choice, and queue up your favorit film or the latest offering on your preferred streaming service. And just like that you have a home movie theatre that is even more comfy than your local cinema.
A Home Facelift
Sometimes your home project can be a simple beautification of your current home. You would be amazed by what a fresh coat of pain can do to completely transform your home. Select a color that isn't too bold on the eyes but lively enough to give you energy. A bright color is great for homes in colder climates and can give you the mental and emotional boost you need. Consider, with the new color, reupholstering your couch, or adding nice decorative pillows. Maybe what you need is even simpler, and just need new, softer bedding. You will be surprised how easily this can change your appetite for sleep. It will feel like you took a trip to a fancy, nearby hotel. Pressure washing your home's exterior can reveal a color you haven't seen on your home since purchasing it. These may all seem trivial, but when executed properly, and in tandem, can make you feel like you have relocated completely.
Build a Secret Room
Do you have little ones at home? Are they fans of the mystical and magical? Give them their own secret passageway into a magic world by building a secret room for them. Essentially, build a large covering using drywall to hide a large space and create an interesting doorway that "only they" know to get in and out of their fortress or lair. Behind the wall you build, add different colored lighting and be creative with the decor to really make it feel like they stepped into a new world. Consider a theme for this room based on your children's favorite stories.
Home projects can seem either daunting or costly, but they don't have to be. With a few simple touches in the right areas you can make your home feel luxurious, add an element of fun to it, and make it a place you truly enjoy being. It can turn into your group's favorite hangout spot where you make some lifelong memories. Be sure to read reviews on any products your purchase and scour the web for the best priced deals to truly get a bang for your buck on your next home project.