As the nation's most populous and wealthiest state, California is an excellent place for high-wealth individuals to reside. It also helps that it is home to some of the largest cities, the entertainment capital of the world, and Silicon Valley, which houses some of the largest tech companies globally. So what does this all mean? Some places are extremely expensive in terms of real estate due to their location, climate, and business environment. This post will cover what makes the state so appealing and detail some of California's most expensive areas.
What Makes California Such A Desirable Place To Live?
California is known for its diverse landscapes and its high cost of living. This large and diverse state offers a lot to its residents, making it one of the most desirable places to live in the United States. With a strong economy and multiple Fortune 500 companies, and is ranked as one of the best states to live in by several different sources. It has gorgeous weather, natural beauty, and thriving entertainment industry. California offers an abundant range of activities for residents to enjoy, such as hiking, surfing, skiing, horseback riding, or even just relaxing on the beach. Other notable features are its many cultural regions, such as wine country and Silicon Valley. Although there has been much talk in recent years of high-wealth individuals moving out of state to set up in Texas, the draw of California remains, and it doesn't look set to lose its crown as the most desirable state in the country any time soon.
Most Expensive Locations In The State
As previously mentioned, California is a beautiful place to live. While there are certainly extremes in wealth distribution, there are still many locations only available to those with money to spend.
Manhattan Beach
Manhattan Beach, California, is a beach city in the South Bay area of Los Angeles County. It is known for its white sands and surf spots. Manhattan Beach has a population of about 35,000 people, and it is home to many restaurants and shops. Its downtown area has several blocks with colorful buildings. It also has a pier that offers excellent views of the ocean. It was incorporated in 1912 as a resort town and developed into a community for the wealthy. Those looking for property in this area need to apply early as open houses Manhattan Beach tend to sell quickly due to the pleasant climate, beautiful beaches, and general safety of the community. In fact, you will be hard-pressed to find any property under $500,000, with many coming in well over the million-dollar mark, definitely making it one of the most expensive locations in the state. However, Manhattan Beach still pales compared to what is coming up next!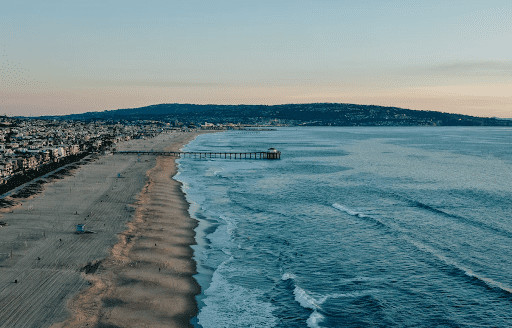 Beverly Hills
What post about pricey properties in The Golden State would be complete without mentioning the (in)famous Beverly Hills! Beverly Hills has been home to many celebrities and entertainment industry executives, including actors, producers, directors, and musicians. It has also been home to many high-profile people in politics and business. Beverly Hills is known for its celebrity culture and being a destination for luxury retail. The city's retail establishments include shopping centers such as Rodeo Drive and Wilshire Center with designer boutiques offering international brands on Beverly Drive; luxury malls like Beverly Center with numerous luxury stores. With average prices coming in at over $9,000,000, it is no surprise that it made the list!
Malibu
In a similar vein to Beverly Hills, Malibu can also lay claim to being home to the rich and famous. Malibu became a popular tourist destination in the early 1900s when wealthy people from the eastern United States began to build vacation homes there. The population grew steadily during the 1920s but remains elusive to the majority of the population to this day. With average prices at almost $5.500.000, anyone lucky enough to find themselves making a home here will be in good company. Famous celebs who have homes here include the likes of Leonardo DiCaprio, Mel Gibson, and Jennifer Aniston, among others.
Montecito
Montecito is an area of Santa Barbara County that includes many upscale residential neighborhoods and a golf club. It's known for its views, natural beauty, and proximity to Santa Barbara and the Pacific Ocean. Referred to by Forbes as a "celebrity enclave," it should be unsurprising that real estate prices here are well above the state average. In fact, you would need in excess of $5,600,000 to purchase something here. However, if you have the cash, you will be able to enjoy the many natural wonders, including Butterfly beach and many gorgeous period homes, such as Montecito Inn, which none other than Charlie Chaplin resided in for some time.
California has always been an appealing state, reflected most heavily in its real estate market. There are plenty of expensive areas to choose from in The Golden State, ranging from the high hundreds of thousands to multimillion-dollar homes. Wherever you choose, you will be blessed with sunshine, the sea, and a wide range of things to see and do.