It's not always easy trying to make a good buying decision in the world of shop equipment. There are so many products out there and all of them make similar promises; but of course, we all know that what a tool says it will do and what it actually does aren't always the same.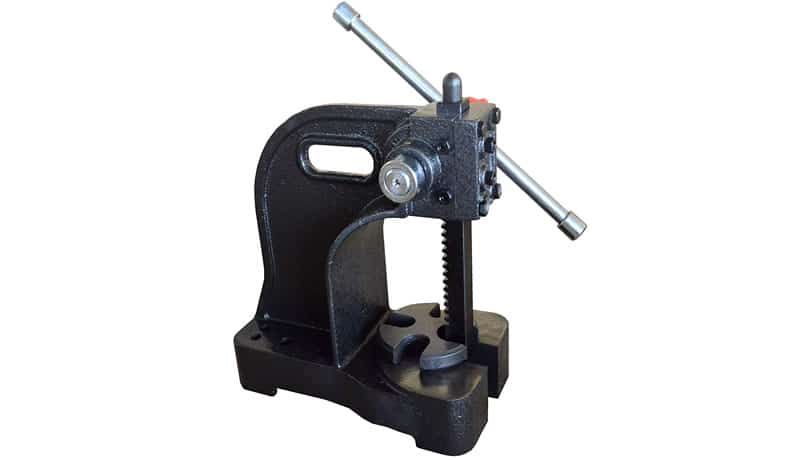 One product though that more than lives up to the hype and is essential for any shop is an arbor press. To help you choose, check out our guide of the Best Arbor Press Comparison Reviews. All of the products on this list have been well-received by the community that uses them, and we will take an in-depth look at each one of them in one moment, but if you like spoilers I can let you in on one. For my money, the Pro Series HHIP comes out on top here. For the price and performance, it's a hard one to beat; but you can decide for yourself as we take a look at what's out there.
What's An Arbor Press & Why Do I Need One?
If you entered this article not even sure that you actually need an arbor press, it's time to dispel the doubts. Here are a few of the reasons your shop is not complete without one:
• Feel: The arbor press offers you a much more sensitive feel than its hydraulic counterpart. You won't need to worry about your materials bending or snapping nearly as much when you use this tool.
• Versatile: The arbor press is also a fairly versatile tool. Of course you can use it for your pressings but it is also good for basic bend work stamping, or even light forming work.
• Powerful: And finally, depending on what model you go with the arbor press can also be very powerful, which will make it an all the more versatile piece of equipment for you to have in your shop.
Top 5 Rated Arbor Press Comparison Reviews
Now that I have you convinced as to why you need an arbor press let's go over a few of the options to help you in your buying decision.
I'm sure you remember this one. Earlier I mentioned that the Pro Series HHIP was my favorite arbor press featured on this list and now you will get to see why. Let's look at the features so you can decide for yourself.
• Sturdy: The HHIP is of cast iron construction, a sturdy material that will keep your arbor press in pristine shape for many, many years to come. Sturdy is a word to look out for anytime you are looking for shop equipment, and the HHIP embodies it nicely.
• Easy to Mount: The base on this model has been drilled to be mounted easily onto any bench or pedestal.
• Removable Anvil: It also features a movable anvil that yields four slot positions for more accurate, versatile work.

The next model that we will be looking at is a simple but sturdy 1-ton arbor press that is a particularly good buying option for those on a tight budget. Of course, you can make your own decision as we again take a look at some awesome features.
• Powerful: Of course, we all know that a 1-ton arbor press isn't the most powerful option on the market but given the low price of the Central Machinery model, you are getting a lot of bang for your buck. The one ton press will still be able to do a lot of jobs, and with this unit you'll save lots of money.
• All Metal Construction: Again, what we want is sturdy, and this product certainly is that. The all metal construction at work in the Central Machinery arbor press will keep it lasting a long time.
• Easy to Install: Like the HHIP this model comes pre-fit to be mounted easily onto any work service so that you can get to work right away.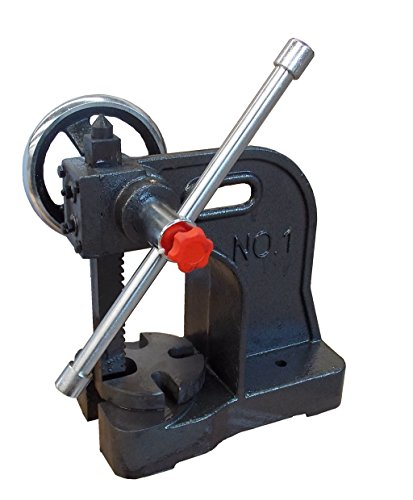 Of course, you will remember the name HHIP from earlier. Their pro series model landed a spot as my top selection on the list. The next HHIP model that we will be looking at is a little bit more basic, and certainly not as powerful (Half ton press) but it also comes at a bargain. Let's take a look.
• Sturdy: Again you are benefitting from sturdy cast iron construction. This model is built with the same materials as the pro-series for guaranteed durability.
• Removable Anvil: You're also getting the same removable anvil that will provide you with four slot positions.
• Easy to Install: Yep, like the last one this model is also pre-fitted to be installed easily onto your work surface.
As you can see the features with the 8600 are on par with that of the pro-series so if you don't need all that extra power this may be a good route for you to take.

The PanaVise is one of the more expensive models featured on this list, and actually it also happens to be the least powerful unit that we will be looking at as well (1/4th ton press) but nevertheless it is a quality tool that will serve you well if you decide you'd like to add it to your workspace.
• Adjustable: The Panvise features four adjustable gibs designed for heightened ram control. More control of course means more precision for your work.
• Tilt, Turn, Rotate: This model also features what PanVise refers to as "tilt, turn, rotate," technology. This function does exactly what the name suggests it would: it makes your arbor press a little bit more versatile so you can fit your tool more readily for any job.
• Lifetime Warranty: A lifetime warranty is always a great feature to have. Tools are made to be durable but of course things happen and a working day can be hard on them. You won't have to worry about anything happening thanks to PanaVise's lifetime guarantee.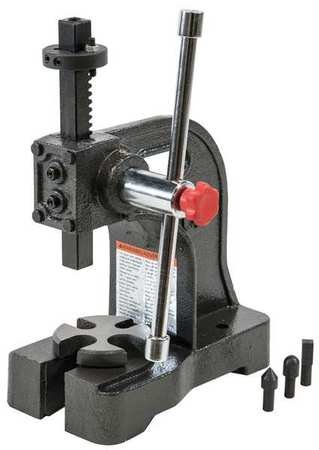 The final arbor press that we will look at is another 1-ton press that is as sturdy and efficient as it is powerful. One last time let's take a look at the features so you can make your buying decision.
• Durable: This is another cast iron model built to last. We don't really need to go over why that is important again do we? The more durable it is, the longer your purchase will last.
• Precise: The Palmgren features an adjustable clamping mechanism that is sure to add precision to your work.
• Handwheel: The handwheel featured on this model has been implemented to provide you with the ability to do quick and easy clamping work.
What to Consider when Buying an Arbor Press
Well, now that you've seen what is out there let's go over a few buying considerations before you make your ultimate decision:
• Materials: You want an arbor press built to last. Cast iron is always a good route to take as it is a low maintenance, durable material but whichever route you take, make sure that the materials used for an arbor press are sturdy before making your buying decision.
• Power: As you have seen there are a lot of different options for power out there. On this list we took a look at 1/4th-ton all the way to 1-ton presses, but actually you can go even higher if you need to. How much power you need will really depend on what you plan to use your press for.
Many people buy high so that they have the extra pressing capacity if they need it, but to each their own.
• Price: You also probably noticed that the price of each model varied fairly significantly. More expensive arbor presses will generally feature more power, and better materials but if you are on a tight budget you can always make a few concessions and still get a great tool.
Arbor-Press Projects
Now that you have decided to get an arbor press (and perhaps even decided which one you will be picking up) let's go over a couple of projects you can do so that when you get your new gear you can use it right away.
First, we will take a look at how to press a ball bearing.
As with any do it yourself project, safety is the first thing to be considered. Though the arbor press is a relatively low-risk tool, it is till wise to put on work gloves.
Now that you have taken safety provisions, simply place the bearing assembly upside down onto the machine plate of the arbor press, making sure that the bearings are lined up with the corrects holes on the press.
You will now want to push the handle of the arbor press down so that the new bearings enter the holes that you lined up. And that is it! Your new bearings are installed!
You will take this approach to much of your arbor press work, such as staking or riveting. The key with much of the work is alignment and distribution of pressure. If you are careful with both, you shouldn't run into any problems.
Conclusion
If you are going to take your DIY work seriously, you will benefit a lot from an arbor press. The question really isn't if you need one, but which one to get.
I've already mentioned that I favor the Pro Series HHIP but the truth of the matter is that every single one of the options illustrated in this list will be great additions to your shop.
Just take the time to look at the specifications of each before you buy, and you will be sure to end up with a tool that vastly improves your ability to do it yourself.