As the weather begins to warm up, we all begin to flock outside. Which means guests, BBQ's, and lazy days in the front yard. Which is why, I believe, it is the perfect time to spruce up your front porch. With these front porch decor ideas you will be able to combine those perfect elements and details to create an outside space you and your family will never want to leave.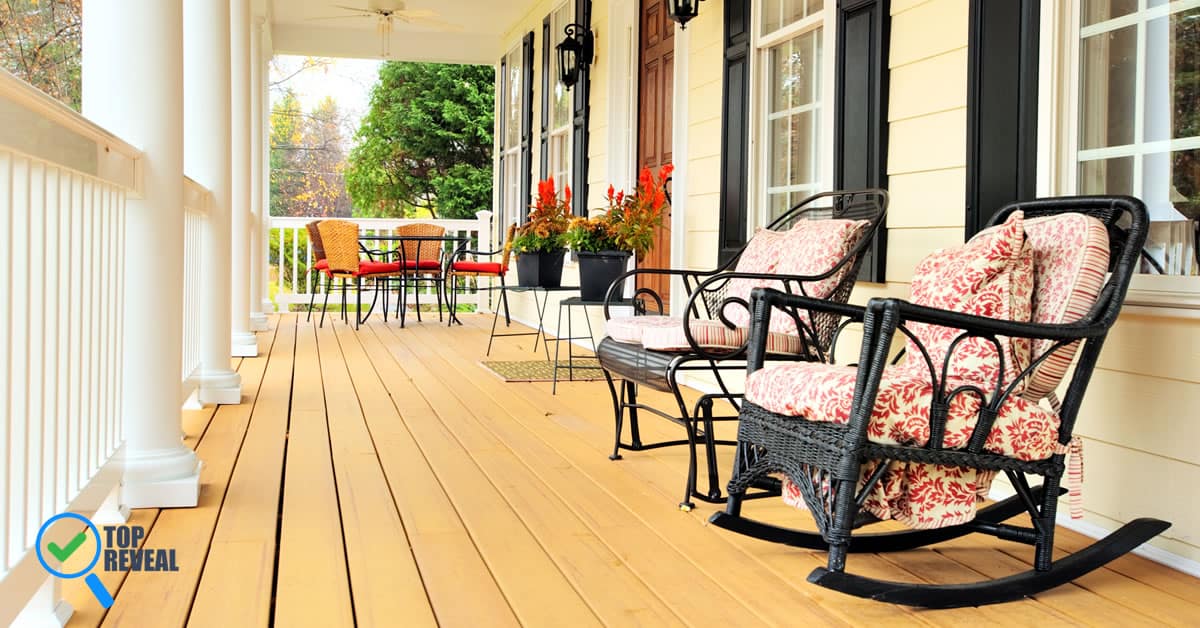 Amazing Front Porch Decorating Ideas
French Country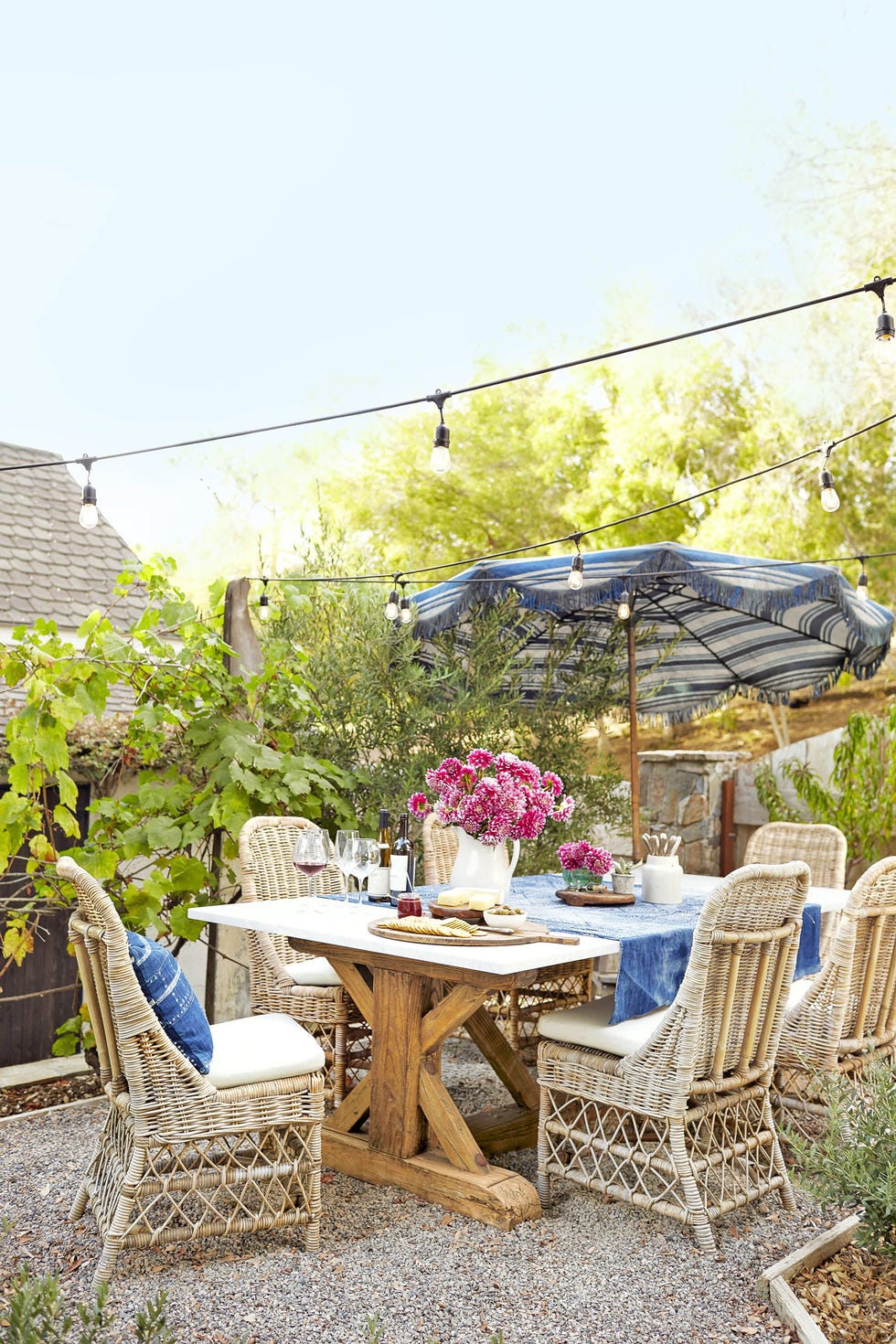 Fill your front porch with chic and classic touches like you see here via Country Living. Like a striped umbrella, sturdy chair, and plenty of pillows.
Go Neutral
Not only is neutral beautiful when it's done like this set-up on Instagram, but you can easily add a few items to decorate the space for any season.
Take Me Away
Feel like you're in another world with this design from BHG. Surround yourself with oversized plants and a ceiling can to give you all a nice breeze as you sip Mai Tai's and watch the waves roll in.
Modern
The modern porch will call for something simple. Like a couple chairs, planters, and some creative lighting. Nothing more, nothing less, as seen here from HGTV.
Mediterranean Front Porch
The Mediterranean front porch you see here by Room to Inspire will have some large plants, neutral colors, comfortable seating, and a table for wine, bruschetta, and tapas. Yes, please.
The Boho Porch
Give me rugs, a few unique pillows, jewel tones, and strange plants like you see here on The Very Girl. It will be the perfect place to sip a cup of tea and sunbathe.
Garden Themed
I love the idea of planting flowers in boots or a watering can like Home is Where the Boat Is did. It is just so dang charming and really brings the garden theme together.
USA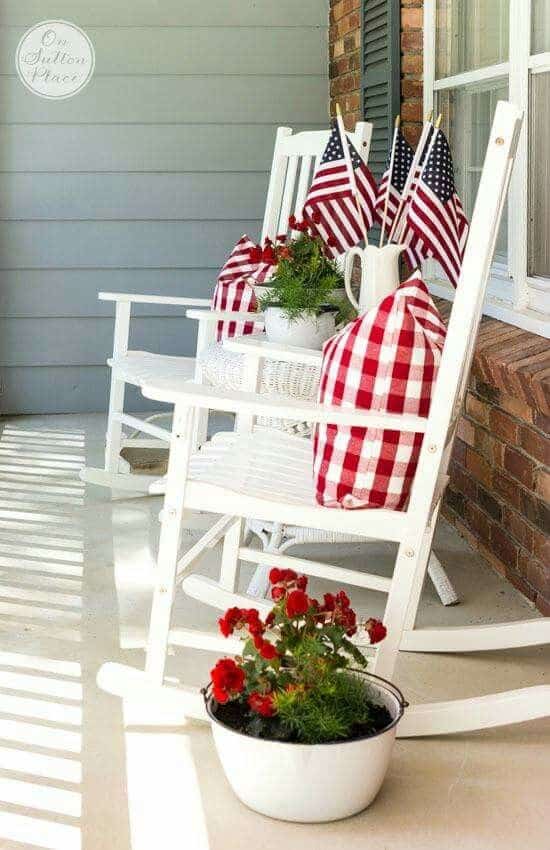 Just in time for 4th of July, show your patriotism with American flags and classic touches all over the front of your home like they did in the On Sutton Place Blog!
White Sands Beach
Create a space that allows you to feel like you are always sitting on a beach with this layout via Digs Digs. Bonus points for a sound machine playing soft waves in the background.
The Cottage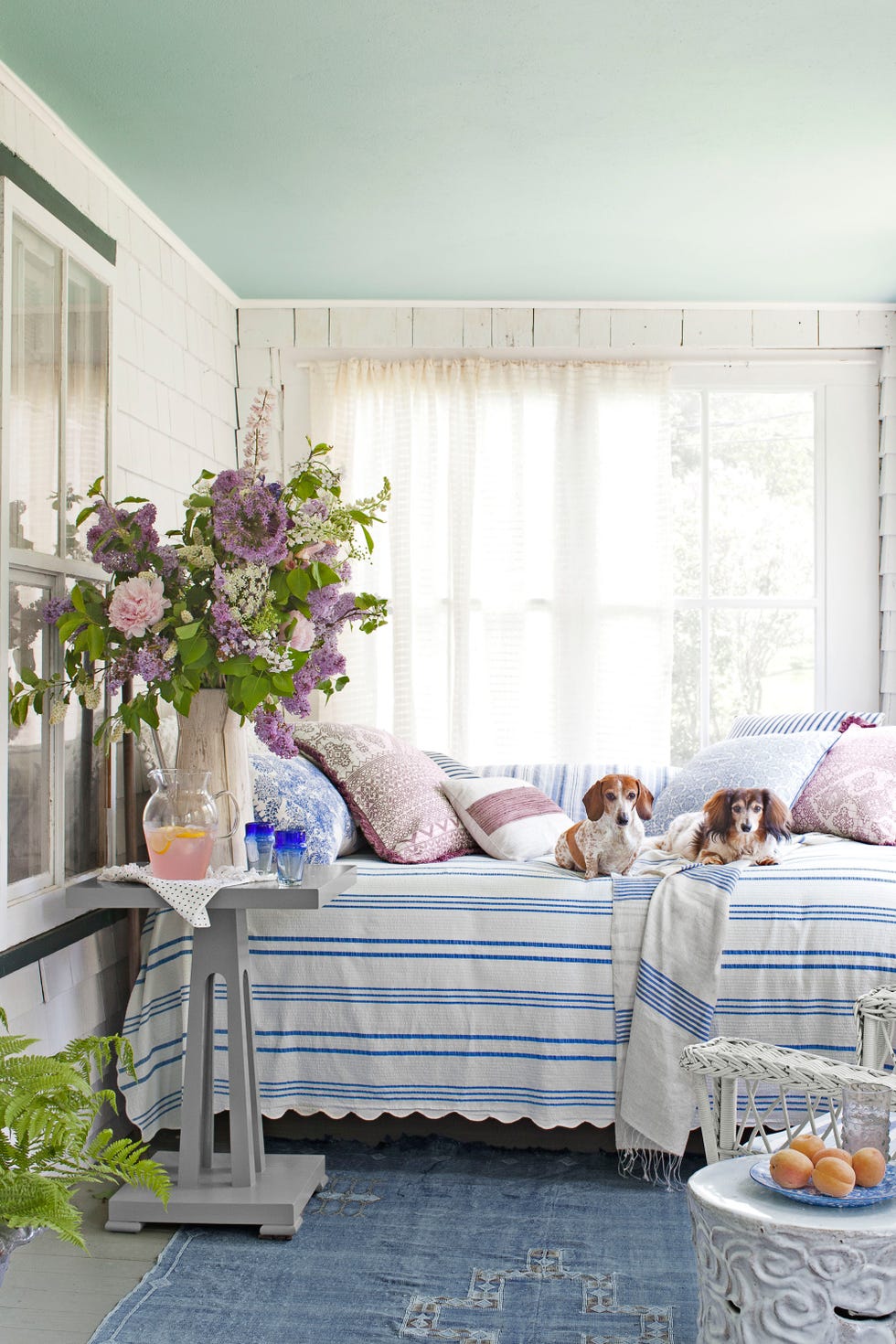 This porch from Country Living has plenty of violet flowers, cozy places to sit with plush pillows, fresh lemonade, a place to set your glass, and a place for Fido, of course.
Keep It Simple
Not every porch needs to be a project. A few simple plants, chairs, and a table to set a snack is all you need; just look at what Our Vintage Home Love did.
Go Rustic
The rustic look is always in. So add an antique chandelier, some worn down signs, and a table that is in love with scratches to create this look from Architespace.
Big Planters Please
Want to welcome your guests right? Frame your door with big beautiful planter boxes like Naofoiacidente did. They will always be greeted with beautiful sights and smells.
Fill Your Front Porch With Flowers
Surround yourself with your favorites petals and those flowers that smell oh so sweet! You will always have a place to sit and smell the roses if you follow this set-up from Homedit!
Herbs Station
Love your herbs? Add them to your front porch for a bit of decor like Little Vintage Nest did. Grow some basil or mint if you really want to greet your guests with some sweet smells.
A Place To Eat And Watch
I don't know about you, but for me, summer as a kid meant long days and nights playing outside with my neighbors. This setup by Rhyne Farm is the perfect place to sit and watch your kids or serve a couple snacks between water balloon fights.
A Table For Breakfast, Lunch, And Dinner
If you are longing for warm summer days and stretching your legs, you probably will love this design on Southern Hospitality which lets you have fresh meals outside on the porch. Add a small table to create the perfect space for outside meals.
String Lights
Warm nights are only made better with beautiful lighting like Home Decor Price did. String lights never go out of style.
Chair Swing
Just looking at this swing design by Home Bunch makes me want to take an outside nap with my dog or cuddle with a book as a breeze passes by. 
Unique Chair Swing
The chair swing too traditional for you? Switch it up with a unique chair to enjoy the outside view like Addison's Wonderland did.
Add A Day Bed
A daybed is not just for indoors as you can see with this cute pic by Kelly Elko. When dressing up just right, it makes the perfect place for some outside relaxation.
A Few Rocking Chairs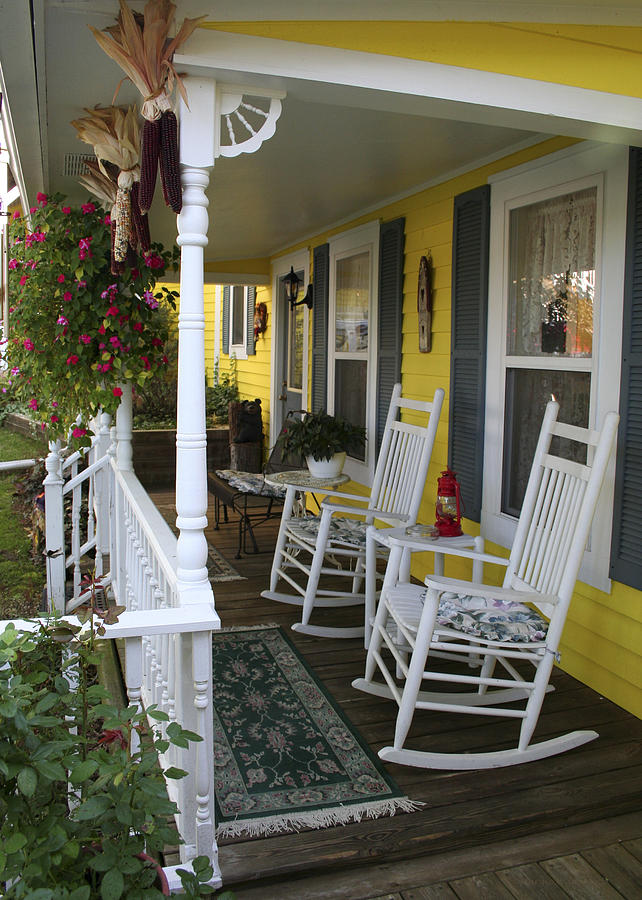 Rocking chairs have been a front porch staple since front porches were invented. Find unique chairs or dress up traditional ones with some paint for a modern look like the one seen here by Fine Art America.
Paint The Floor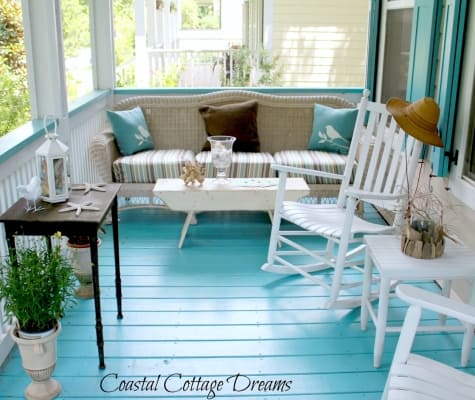 Ever think about painting your porch's floor? It is a fun way to add some color and uniqueness to the front of your home as you can see from this picture by Totally Coastal.
Paint The Ceiling
Wooh? What? Yep, paint the ceiling like A Blissful Nest did. It can be a fun color that makes the ceiling look taller and the space look truly unique.
Add Some Pops Of Color
Pops of color is what summer is all about. Use this picture by Dig This Design as inspiration to show your creative side and personality.
Create A Cozy Space
This porch by Carrie Gillaspie is a cozy space for you and your loved one to catch up on the day, read a book, or drink wine with a friend.
A Place To Read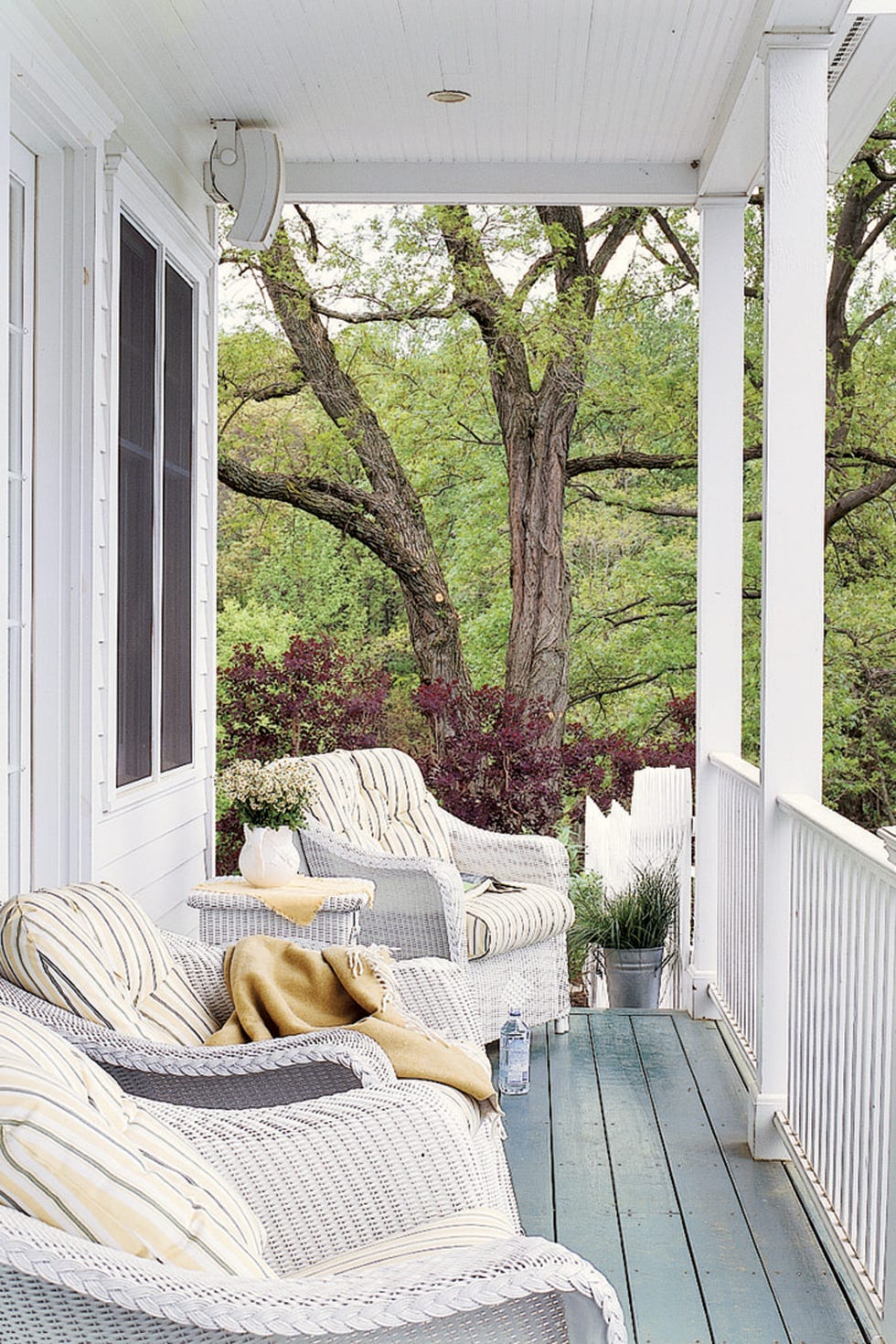 This porch from Country Living does not overdo it with the decor or plants. It simply provides you with a place to open a book, put your feet up, and go wherever the pages take you.
A Porch For All The Reasons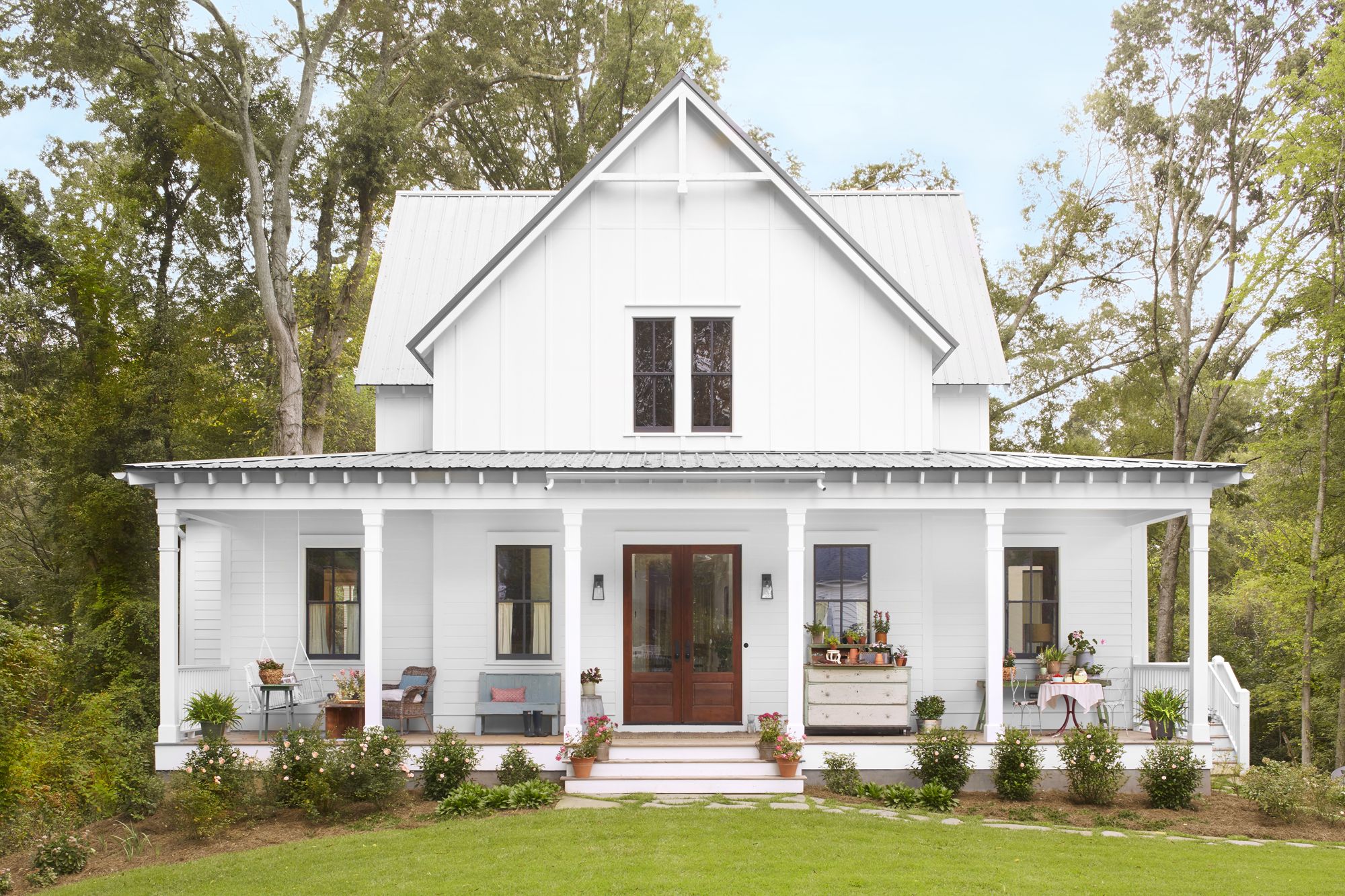 If you are so fortunate as to have a nice long porch, fill it with seating and spaces for eating, reading, and chatting with friends like the setup seen here from Hearstapps. Perfect for all the right reasons.
The View Out Your Window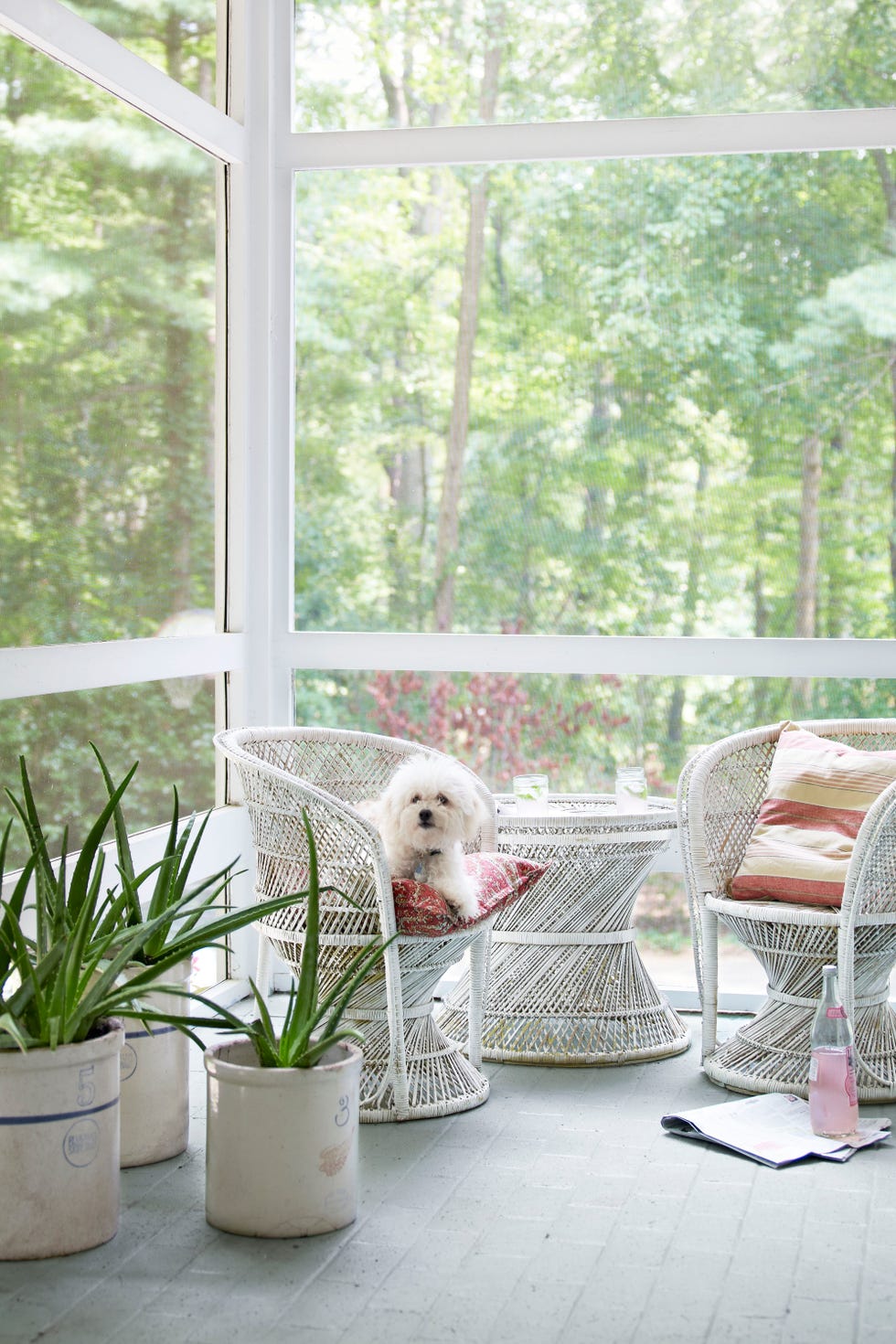 Do you love front porches but live in an area that often rains, gets cold or attracts pesky bugs? Add some windows lie the ones seen here by Country Living so you too can enjoy your porch, but without the unavoidable side effects.
Did you enjoy the article? Part of enjoying the outdoors is making sure you have a comfortable space to do so. Which is why I love these outside elements so much. Let me know what you think in the comments and share this article with a friend you would sit on a front porch with.