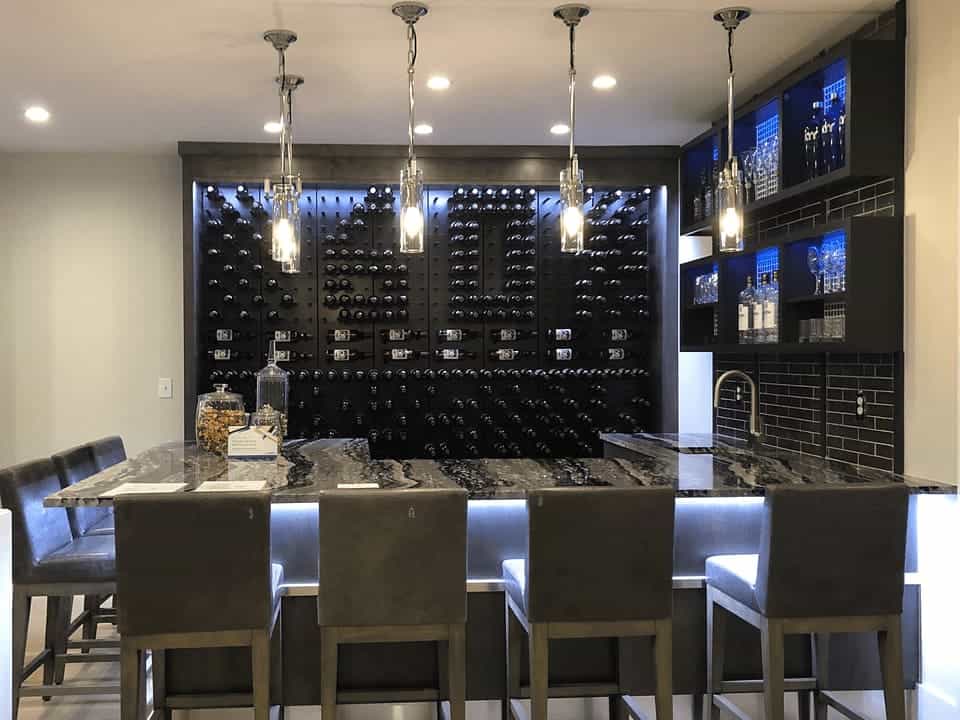 Do you prefer enjoying your favorite shot of whiskey or glass of wine in the comfort of your home, or do you love planning and hosting parties at home? If you do, having a home bar can give your guests an unforgettable experience. Read on for eight tips for designing a functional home bar.
1. Determine the perfect space for your home bar
The first step to designing the perfect home bar is finding a designated space. Determine the area where you host most of your home entertainment, then set up your bar there or in an adjacent space to it. Common ideal spaces perfect for a home bar include the dining room, living room, garage, basement, or kitchen.
Be sure to consider the size of the space you choose to determine whether you should invest in a permanent addition to your house or a room you could quickly move around. If you have limited space, invest in a collapsible bar that you could store away to free up space. Alternatively, you could set up an outdoor bar to utilize your backyard space.
2. Pick the right bar furniture
Be sure to incorporate ideal furniture into your home to give it the full bar experience. You could invest in a swivel bar stool for a contemporary bar design. These stools are eco-friendly and durable, making them ideal for high-traffic areas. Add a cozy sofa, lounge chairs, or an in-built booth to give your guests ample space to enjoy their cocktail.
3. Invest in a durable bar surface
The bar surface is the most used and visible part of your home bar. You could invest in marble or granite slabs to give your bar a classic touch and a top-tier appearance. However, these surfaces are quite expensive, so you could opt for a tiled surface if you are working under a tight budget.
If you are looking for a traditional look, opt for dark-grained wood and stainless steel, butcher block, or glass for a modern style. Avoid home bar surfaces that easily peel or scratch over time.
4.Make your cabinetry beautiful
There are tons of distinct cabinet choices available for storing bar glasses and drinks, among other bartending equipment. You could pick cabinets with floating shelves or glass doors as these designs enable you to show off your cocktail glasses or your spirits and wines collection. You could also add a bold color or texture to your bar's cabinets to ensure it stands out. Ensure that your cabinet design complements the existing style of your home.
5.Add lighting
Consider adding lighting to your home bar, as it sets the mood and maintains the attention of your visitors by illuminating drinks and bar decor. You could install pendant lights or sconces to your home bar to give it a luxury vibe. Soft lights or low wattage bulbs could also give your cocktail serving area a pub-like feel. Other lighting elements you could add to your home bar include under-cabinet lighting, recessed lighting, or LED bulbs that change color to alter the mood in your cocktail serving area.
6.Account for appliances in your home bar design
During the design process, be sure to account for essential appliances such as refrigerators, bar sinks, and wine coolers. These appliances prevent you from running back and forth to the kitchen whenever guests need more drinks. When choosing a home bar appliance, keep your budget, the available space, and home-style in mind. Be sure to also think about the existing plumbing and electrical outlets.
7.Stock up on bar essentials
To create your own bar set up, invest in the relevant bar essentials. You could either customize your cocktail serving area with your favorite liquor or create a professional bar by stocking up on all types of drinks and tools.
Some essential bar tools you should purchase to help create and mix cocktails include jiggers, mixing cups, cocktail shakers, mixing spoons, wine openers and beer, muddlers, pitchers, and unique wine glasses. If you are fond of hosting guests, you could also have a bar book with all cocktail recipes your visitors may desire. However, ensure that you have all the necessary ingredients like soda water, triple sec, bitters, vermouth, and simple syrup.
8.Decorate the home bar with a purpose
Do not be afraid to get creative with your home bar design. Consider adding a new pop of color to the cocktail serving area to capture attention or match your bar color with the rest of the colors in your house. You could also add a unique art piece or a fun sign to enhance the area. You can even install a television to watch your favorite show or game or add your favorite sports team gear to spruce up the space.
Endnote
Creating a home bar is a perfect way to utilize the unused space in your home. It is also a ready space to entertain guests. Implement the above tips to design a functional home bar that evokes your personal style.