Thermostat technology has really skyrocketed in recent years, especially in the wake of the automated "smart home," renaissance that we now find ourselves in. Now a days, a thermostat is a whole lot more than a cheap little dial that you turn on the wall.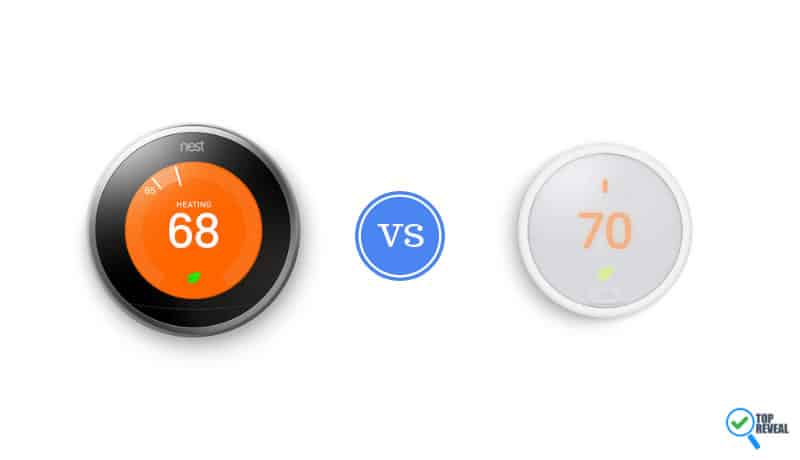 With all the super cool options that are available it can sometimes be a little bit difficult choosing the one best suited for your needs, but don't worry, that is what we are here for. Today we will be comparing the Nest thermostat with the Nest E to determine which is best suited for your home.
We are about to take a pretty in depth look at both of these super cool systems, but I'll let you know now that I think the Nest E thermostat comes out just a little bit on top here. Like the original Nest, it is packed with great features, but it also happens to be just a little friendlier to your budget.
Hey, that's just my opinion. You can decide for yourself which device is better as we now take a closer look at these awesome thermostats.

For a long time now, Nest has been at the forefront of producing smart thermostats and this is the very device that has helped to earn them that reputation. Of course, there is no reason to simply take my word for it. Let's now take a deeper look at the Nest thermostat to see if it is right for you.
Saves You Money: I know that I mentioned earlier that the Nest E is notable for its ability to save you money but that is also true of the original Nest thermostat which also utilizes innovative technology to help you cut back on your power bill each month.
The Nest uses an impressive (and complicated) series of algorithms to determine when you are home so that it can shut itself off when it is not needed, saving you 10-15% on your energy bills.
With that amount of savings, the Nest literally pays for itself over the course of two years.
Remote Control: The Nest syncs up with your smartphone or tablet so that you can adjust the temperature of your home from anywhere in your house. Whether you are watching a movie from the couch and just don't want to get up, or you are miles away at the grocery store, you will have complete and comprehensive control of your Nest thermostat.
High-Resolution Screen: The display on the Nest itself is also impressive, boasting 24-bit color, 480X480 resolution, at 229 pixels per inch. What does that all mean? It means that you will get to enjoy a crystal -clear image when you go to adjust your smart thermostat.
Voice Control: So, say you are sitting on the couch watching a movie, and not only do you not want to get up to adjust the temperature, you don't even want to take out your phone. The Nest still has you covered. This device is also compatible with Amazon's Alexa, allowing you to control the temperature of your house simply by using your voice.
Easy Install: Installation can be such a pain. It's really nice when the manufacturer makes it easy for you. The Nest thermostat is designed to be installed easily so that you can do it yourself without professional assistance in thirty minutes or less.

You'll remember the Nest E. Earlier I chose it as my pick for favorite and, of course, I still stand by that decision. The Nest E offers most of the same great features as the unit we just looked at but it makes them available at a much more affordable price. Let's take a closer look at this unit to see if it is right for you.
Blends In: The display with this model is designed to be non-intrusive. When you are standing close to the frosted screen of this thermostat you will be able to easily read all of the information that you need.
Once you move back a little bit, however, you will find that the display disappears. The idea here is to ensure that the Nest E doesn't interfere with the motif of your house.
Remote Control: The Nest E features the same awesome comprehensive control that we saw at work in the last thermostat that we looked at. Whether you are at home, work, or the store you can be confident in the fact that, with the help of your smartphone, you are in complete control of the temperature of your house.
Pays for itself (quicker): This unit also features the same energy saving technology present in the last model. The Nest E is smart enough to learn your routines to save you money on power down the line. And since this device is also more affordable than the last Nest that we looked at, it is going to end up paying for itself much quicker as well.
Ceramic Ring: Nest thermostats are generally associated with a steel ring through which you are able to adjust the temperature. This model offers a slight departure from that trend by instead supplying a ceramic ring around the outside of the device.
This change both helps the unit to blend in with your décor the same way the frosted display does, but it also helps keep the cost down.
Alexa: Like the last unit, the Nest E is also compatible with Alexa. Of course, the device is sold separately but if you already have an Alexa you are in luck as you will be able to use it to control your thermostat using only your voice.
While not necessary, this is a nice feature that really compliments the home automation components of the device.
The Nest 3rd Gen versus Nest E Comparison: Which One is Better?
How They Are Similar
Now that we have taken a close look at these two products, let's now compare them by identifying the ways in which they are similar.
Power Saving: Both of the thermostats that we have talked about today are designed to save you money on your energy bill. This is a big point of favor for both of them as that is one of the primary reasons that many people look to buy a smart thermostat in the first place.
With either choice, you can be comfortable in the fact that you are doing your part to help out the environment, and save a few dollars in the process.
App Support: You're also getting the same app technology with both thermostats. Since these are both Nest products it is actually very literally the exact same app. With both of them you will be able to log into the app using your phone, computer, or tablet, and remotely control the settings on your thermostat.
Alexa: I've said it once and I will say it again—you certainly don't need the Alexa support but it is also nice to have. The ability to lower the temperature in your house simply by saying a few magic words is undeniably cool.
Easy Install: Both thermostats have also been optimized for an easy install, meaning you won't have to sink a lot of time into this process, and you will also be able to save some money on the cost of a professional installation.
How are Nest 3rd Thermostat and Nest E Different?
Knowing how these two models are alike is nice, but for the purposes of choosing between them, it is much more useful to know how they are different. Let's now examine that.
Construction: The original Nest is built with metal components, and an extremely high-definition display. As I mentioned earlier, that's not exactly what you are getting with the Nest E.
The Nest E is made with more plastic components, and a display that isn't quite as sharp as its sister model. Undoubtedly, plastic is going to be a little bit less durable than stainless steel, but fortunately thermostats don't suffer much wear and tear.
Far-Sight: The display on the original Nest is constant. From anywhere in your home you will be able to glance over and, depending on your eyesight, read the display on your Nest.
The Nest E doesn't quite work that way. In order to read the display on this model, you need to be fairly close to it. When the device registers that you are near, it will then present the necessary information.
Price: The biggest difference between these models definitely comes in the form of cost. While price fluctuates too often to definitely list the cost of either, you can expect to pay significantly less for the Nest E than the standard Nest thermostat. Why?

Most likely because of small differences like the lower resolution screen, and the plastic instead of steel construction. If you are willing to make a few concessions you will end up with a great deal.
Conclusion
Well, there it is. You have already heard which product I favor, but to be fair both really are good buying options. If you want a product that will lower your energy costs and give you complete and comprehensive control of your home temperature from anywhere in the world, choose Nest 3rd Learning Thermostat.
If you want to get all those features for a great bargain, choose the Nest E.

[rwp-review id="0″]