So, you want to transform your lawn into the perfect outdoor space. There are 6 important things to know when it comes to outdoor spaces. Whether you want to get your backyard ready by removing all the old grass and weeds or create a patio, outdoor kitchen, water feature, or other outside features, we've got you covered. Should you pave your backyard? Add a tree? Or maybe both? Make sure you know where the sun will rise and set during the year before deciding!
Things to Know when Transforming Your Lawn
1) Lawn
The first step is to get your backyard ready by removing all the old grass and weeds, then think about how you want it to look with green grass or low-maintenance plants. If you're not already sure what you want your outdoor space to look like, take a few days and just brainstorm some ideas. If it's too hard for you to take care of a regular lawn, try realistic artificial lawns that will look just as great as the real thing. It will make your job easier and you won't have to worry about weeds.
2) Low-Maintenance Plants
For those who want a low-maintenance garden but don't want to give up on the idea of having plants, try planting bulbs or cacti. Bulbs are great for springtime and summer, while cacti are perfect for summer, fall, and winter. Great options you should consider are also bushes like rosemary, thyme, oregano, and lavender.
3) Pave It
If you don't want to deal with grass, there's always paving. Pavers come in so many different styles and colors that you should have no problem finding one that matches your space. If you have a long driveway, it might be a good idea to pave that too so your driveway is consistent with the rest of your backyard. Your backyard pavement can also be made in the form of a mosaic. You might want to consider using old tiles or other materials to create a unique design. If you're unfamiliar with what you might want to make or are just not that inspired, you can hire a designer or someone who knows how to decorate your backyard.
4) Add A Tree
Adding trees doesn't mean you have to plant an entire forest in your yard, but bringing in just one or two can freshen up a space. When you're choosing a tree, consider what size your yard is and where the sun will rise and set during the year. Try to plant trees that have similar light requirements. You can also simply add shrubs or vines to give your space some color while retaining the easy upkeep of low-maintenance plants. Some great tree options include:
Linden
These trees will grow up to 60 feet, which is perfect if you have enough space. They need a lot of sunlight, so make sure they're planted in a spot where they'll get at least six hours per day. If you live in the northern hemisphere, make sure they don't face south or southwest as they'll be receiving too much sun.
Birch
These trees can grow up to 45 feet tall and are hardy in zones 3 through 8. They only need four hours of sunlight per day and prefer soil that's acidic and moist. If you live in a warmer area, the birch tree might not be the best option for your yard because it can't handle too much heat.
Pine
Great in northern areas, they usually grow taller than 50 feet and need at least five hours of sunlight per day. They're hardy in zones 2 through 8 and prefer soil that's acidic and dry.
5) Concrete
If you want a more industrial look, concrete is the way to go. There are so many different styles of concrete that you're sure to find one that matches your outdoor space. Check online for ideas and inspiration, as well as local stores such as hardware stores or home improvement retailers. Concrete can also be painted or stained so it's the perfect way to achieve a custom look you'll love. You don't have to just pour concrete on the floor. You can make custom steps, planters, or even a fire pit that you will use for years to come.
6) The Final Touch
The final touch is whatever you want it to be. Whether you're decorating your outdoor space with plants, trees, or paving stones doesn't matter as long as you have fun doing it. If you're feeling fancy, add a nice statue or a swing. You can also add a fountain and there are plenty of different fountain options out there. You can choose between more traditional or antique fountains and natural-looking fountains surrounded by rocks, stones, and pebbles. Also, you can add metal details such as small fences around the trees and benches, as well as lights!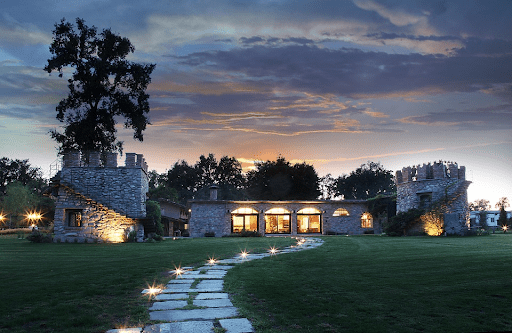 The best part about transforming your backyard is that there are so many things you can do with it. You can have a patio, outdoor kitchen, or just some grass for the kids to play on. Whatever your backyard transformation is, keep these 6 tips in mind and go for it!