There is a special joy in playing with the ground and plants and dancing in a colorful dream called a garden. Without a doubt, starting a garden adventure is one of the best decisions you will make to brighten your life. Still, if you are a novice gardener you may encounter some difficulties, and you will need some guiding lights. Break your new colorful project into manageable steps and you will be able to observe your plan becoming a paradise. You will have a lot to learn and explore, but the results are rewarding. If you are planning to be one of the lucky ones enjoying wonderful blooms and views, pick some of the tips to guide you.
Make Your Choice
Once you decide to venture into the world of gardening, you should take small steps. Start by asking yourself what you want your garden to be filled with. Do you want it to be only a herb garden, or a flower garden, or a combination of both? Or you might prefer enriching your diet with some fruits and vegetables from the garden? Answering these questions are the small but secure steps to start your well-constructed plan. Whatever you choose, you will get a real gift of nature and beauty, but be conscious of the responsibility and requirements of the type you choose.
A Dream Spot
It's time to revise some biology. What do plants or vegetables need? You need to observe your desired garden space and notice which spot is the best for them. To achieve this easily, dive into a sea of information regarding the wants and needs of plants and flowers, their environment, and conditions, to help you out. Since most of them need the sun to grow, make sure you provide them with enough "food". This spot has to be appropriate for their rising before it is suitable for them as lovely ornaments. Your new friends also get thirsty often, so pick a space that is near or has easy access to a water source. When you find your dream spot, clear the ground of weeds and sod. There are many methods to do it quickly (one of them being the so-called lasagna method). In this way, you will have prepared space and rich soil. Also, preparing new beds for planting goes hand in hand with picking the best spot. Well-prepared planting beds will support the growth of the plants. Work carefully with the soil, and it will gladly welcome your new plants.
Pick & Plant
Here comes the time to pick your plants. It goes back to the type of garden you aim to have. Pore over the catalog of gardening tips at UrbanOrganicYield.com and learn about the characteristics of various types of plants. Adapt the choice for your plants to your climate and your yard spot.
When it comes to planting, different types still require different seasons and conditions to grow. Usually, there is information about spacing, depth, and planting time provided with the seed packet, so it will be enough for a start to follow them. And coming back to the prepared beds, dig and prepare holes for plants to come.
Make it a Lovely Science
Gardening is a kind of science. There are a lot of things you need to learn. But is not that beautiful? The whole process of starting a garden includes a lot of research. You should know some new terminology, some new tools and acquire some new skills and practices. This will make your new beginning a different adventure and experience.
They Need Water
Water your seeds on a daily basis, and do not allow them to dry out. Water is essential for their growth and survival. Watering is more frequent until the roots are established, and the continuation of watering depends on the latter conditions, the weather, and the stage of the plant's development. Watering should be done deeply and slowly, as to reach the root and soak in. Watering in the early morning is famous for minimizing evaporation, so get up early and water your garden.
Protect Them
To save them from unwanted weed and moisture, you can use mulch. You can straw, river rock, shredded bark, or even compost to cover the soil. This is a good way to nourish your soil while it decomposes. You can choose among shorter or longer-lasting mulches depending on the type of garden you have.
Constant Maintenance
Constant maintenance is key when it comes to gardening. If you want your garden to flourish to its full potential, you have to take constant care of it. But guess what? You will enjoy every minute of it. Taking care of your plants will be a precious and quality time.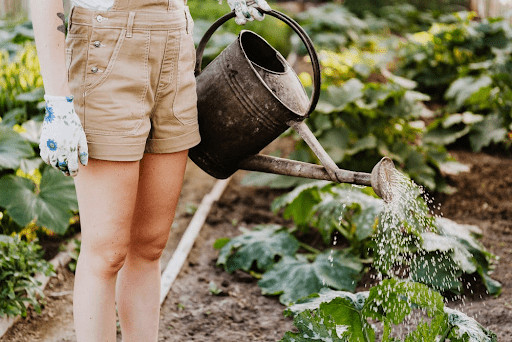 Regarding the infinite benefits it possesses, no effort put in it is in vain. It might seem a bit demanding at the beginning, but as you keep researching and doing your garden chores, you will become an expert and everything will go with the flow.