Building your own home from scratch affords you the added advantage of creating your own unique space to suit your needs. If you have an upcoming home building project, you will definitely need to hire a construction company. They are well equipped with heavy machinery to ensure your abode is built with all the safety standards in the shortest time possible.
Below are some of the commonly used types of equipment that are a must-have to make your residential project a success. Let's count together, shall we?
1. Boom Lifts
Without the right construction equipment, it can be arduous and time-consuming to complete any given project.  A boom lift is an essential piece of equipment. It's also known as cherry pickers. If you have any work which will require work beyond the ground level, a cherry picker will give you a reliable hand.
It's a crane that is very efficient in lifting or lowering people at the building site. Most construction companies sometimes have cherry pickers which come in handy while installing windows, painting and cleaning. They ease the reaching of hard-to-reach places safely and provide the mobility and freedom to work with both hands while on the lift. 
2. Excavators
The work of an engineer in a building site gravitates around a myriad of things. Among them is ensuring he has the right construction pieces of equipment to ease the work and make it more comfortable. An excavator is probably one of the most used equipment in every construction project. This machine has a long arm, which enables it to reach some of the hard-to-reach places.
The excavator operator at the cabin controls the equipment as it digs the soil while emptying it in a digging bucket at the site. The machine can rotate at 360 degrees, which eases the movement of the operator, enabling him to work in multiple zones from one single location. Other uses of these machines include demolition, cutting of trees, and heavy lifting, just to name a few. 
3. Telehandlers
Construction sites often require a lot of navigating. Without the right machinery, you might end up facing a lot of hitches or even fail to deliver the project or achieve timely completion. A telehandler is used to handle basically anything at the construction site. 
For instance, it is used for lifting and supplying materials to the different floors of the building. It can work in any terrain since it can maneuver even in tightly packed construction areas. Telehandlers allow you to fit it with attachments like buckets to amplify your work.
4. Bulldozers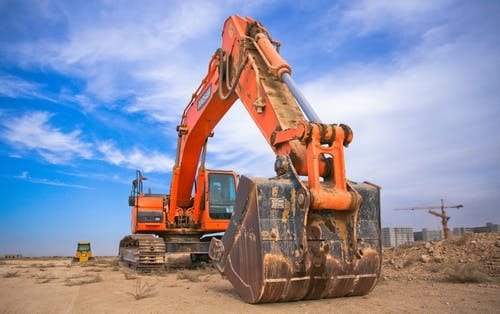 Just like the name implies, a bulldozer handles some heavy work at the construction site. Having a bulldozer on-site helps increase efficiency in preparing the constructing ground. A dozer helps in flattening the terrain, clearing lanes, and leveling the ground. It can navigate on any difficult terrain, from the sandy to the muddy in the construction site.
The track has some ginormous weight that spreads across a wide footprint. Bulldozers are used for removing the soil, sand, and debris from construction sites. It does this by using a plate that is normally lowered to load the content and raised using hydraulic pistons at the cabin. It also has a ripper attached at the back end used to split up pavement, surface rock, or asphalt.
5. Skid Loaders
The importance of a home can never be overemphasized. It's the abode where you get to relax as you bond with your family after a long day's work. When working on a home building project, you will require a skid loader as the construction company. This equipment is at the heart of every construction site. Having a skid at hand eases and quickens your finishing work at the yard and driveways. Skid is used for hauling, lifting, digging, gathering, and disposing of organic and construction matter throughout the building project.
6. Generators
Last but not least is a generator. Construction companies work against deadlines. The last thing you want to waste is time. A generator is therefore vital. It will ensure work does not stop at the site out of power interruptions and ensure your project is completed as scheduled. A generator is central in every construction site. This is considering the inevitable power outages which strike without notice hence derailing work. It also provides sufficient lighting at the site while working at night.
The right machinery not only eases your work during a construction project but also ensures you don't sacrifice quality as an engineer. They help you achieve a dream home for your client on schedule and within their budget. The above heavy machinery types are worth familiarizing yourself with.