Throw open your windows and pull up the blinds because spring is here! In case you couldn't tell, I'm a bit excited about it. That's because to me spring is a magical time, with the scent of fresh-cut grass wafting through my windows, leaves dotting the trees, flowers blooming, and the sounds of birds chirping permeating the early morning silence. There's nothing I don't enjoy about this season; I don't even mind spring cleaning.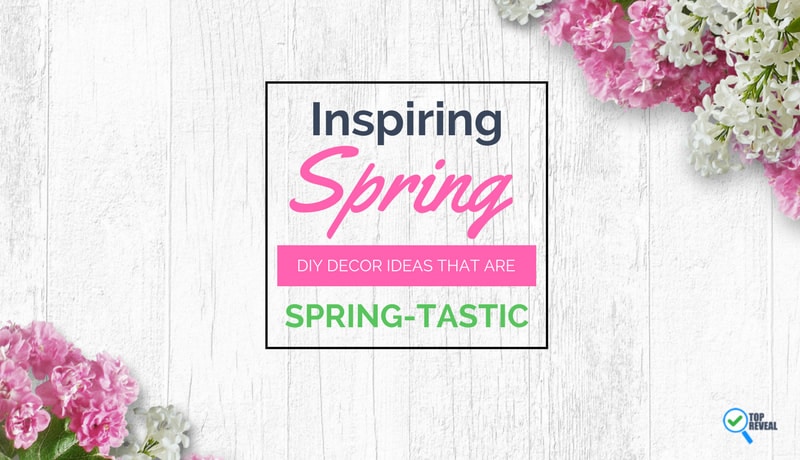 If you love spring as much as I do (or even half as much) and want to incorporate some of the season's signature elements in your home then my Spring DIY Ideas That Are Spring-Tastic (if I do say so myself) is just what you need!  Read on to learn how easy it is and discover some ingenious projects to help make it happen.
The Spring Decorating DIY Ideas Infographic

We have a top 10 of our all-time favorite projects made in the Infographic as well.
DIY Projects: A Little Goes a Long Way
Before we give you a breakdown of DIY projects room by room, let's look at these 10 crafts you can do to add a simple spring touch using the tips above.
Pretty in Pink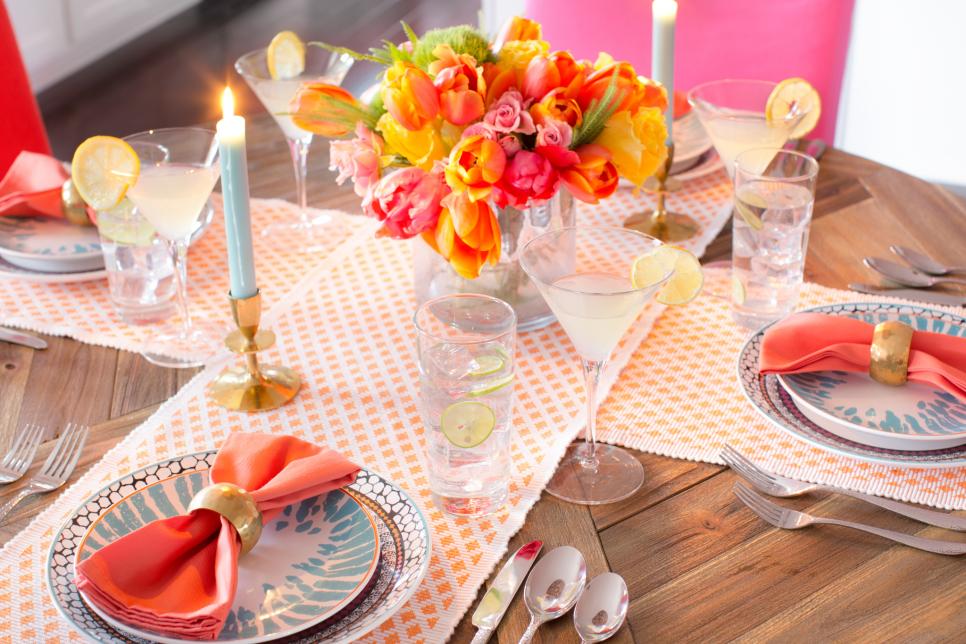 Courtesy of HGTV
Varying shades of pink, with some contrasting orange, turn this ordinary table into a fabulous spring display. All you need are crisp table runners in fun patterns, along with complimentary napkins and fresh flowers.
Blooming Flowers
Courtesy of the DIY Network
These flowing, flowery curtains will add a soft touch to any room. They'll also wow friends and family when you tell them you made them yourself!
Luck of The Irish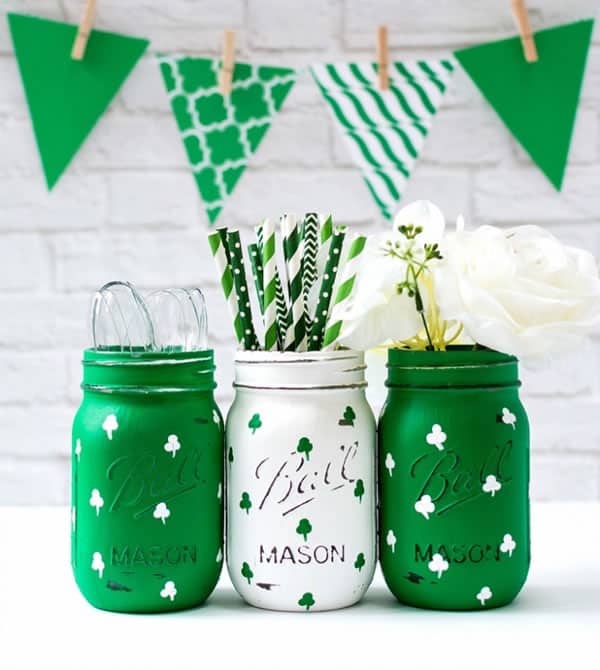 From Mason Jar Crafts
Let your Irish show with these inventive mason jars. All you need are the jars, along with some emerald green and gold paint and you're ready to go.
Everything's Coming Up…Tulips
Courtesy of 259 West
Simple and elegant, let friends and family know you're ready for spring with this striking wreath. You can use branches and some fake flowers to ensure they'll stay vibrant in good and bad weather.
"Hoppy" Easter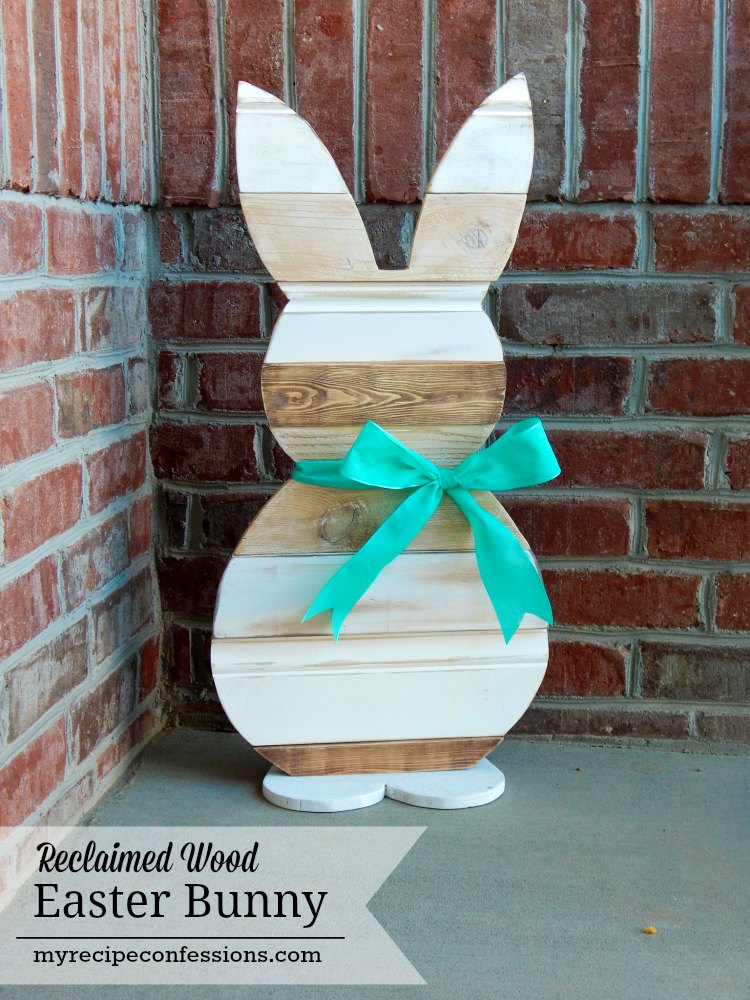 Add some Easter décor to your house in a way that is elegant and grown-up with this wooden bunny. Surprisingly easy to make, all you need are some old wooden pallets, ribbon and a little bit of time.
Find Your Green Thumb
From DIY and Craft Ideas Magazine 
Grow some scented herbs and flowers in a fun, colorful way using paint in spring colors and a wooden pallet. Looks great in a sunroom or back patio.
Eggs-cellent- or Is It?

From Tenesha Zinne 
These cacti look like decorated eggs, but they're actually rocks, so you can keep it around into the summer. Collect some rock and then get to work, using some fun spring paint colors and an old potting vase.
Looks Good Enough to Eat
From Southern Living
For those who want more of nature indoors, this mix of fresh flowers and vegetable is the way to go. It adds an eclectic feel to your table and brightens it up instantly.
Pastel Patterns
Take a neutral rug and decorate it with a pastel pattern to change any room in your home. You can use fabric paint or if you're handy with a needle and thread you can sew on a pattern.
Eggy Elegance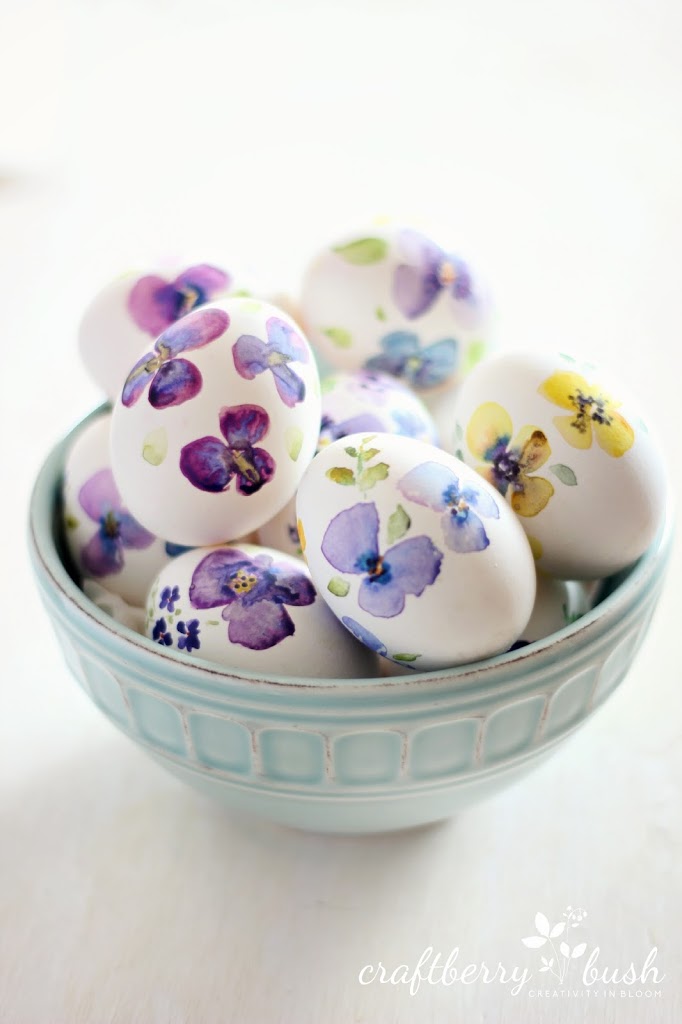 Courtesy of craftberry bush.
With just paint and some hard-boiled eggs, you can create a stunning centerpiece for your table that tips it's hat to Easter and spring.
And now, without further ado, here are some great spring DIY projects for every room in your house. From the front porch to the bathroom, we have something for every house style.
Spring Themes: Who Says Bunnies are Just For Kids?
Besides branches, leaves, and flowers, there are a few other themes for the season, as Easter, St. Patrick's Day and Mother's Day are all celebrated in the spring. To blend the holidays or other specific theme elements into your house here are some ideas:
Nature
One of the easiest ways to decorate for the spring is by taking elements from nature. For example, twist branches and daisies for a pretty wreath to adorn the front door or gather lilies and put them in a tin can for a centerpiece. And if you want them to last you could even use fake flower- we won't tell!
Bunnies & Eggs
Visit Parenting.com for more ideas.
When it comes to rebirth what is more symbolic than Easter? That could be where the tradition of coloring eggs came from. It also explains why they are an often- used accessory for spring decor. And while you may associate egg-coloring with childhood, it can actually add an elegant touch to your decor. You can use lovely pastel colors and flower patterns like above to make a striking and elegant centerpiece for your dining table.
Or, if you have kids you can put together a wooden bunny for the front porch (you can find DIY ideas for one in our project section). The point is you don't have to go crazy to add a holiday touch to your home; you can use understated elements for a fun yet grown-up take on these special days.
Shamrocks & 4-Leaf Clovers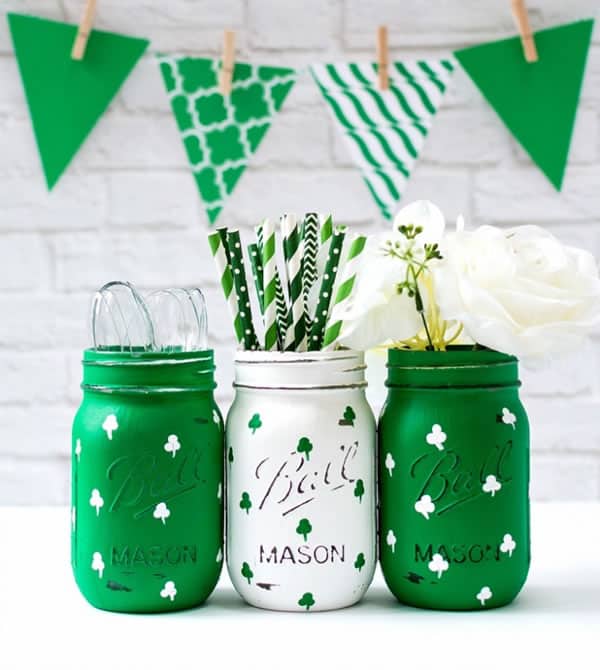 St. Paddy's Day is a staple of the season, and with green being one of springs' main colors, there are lots of ways to incorporate emerald green and shamrocks into your drapings and furnishings. A simple, chic way is by painting shamrocks onto mason jars or throwing a bunch of four-leaf clovers into a glass vase for a wee bit of Irish luck.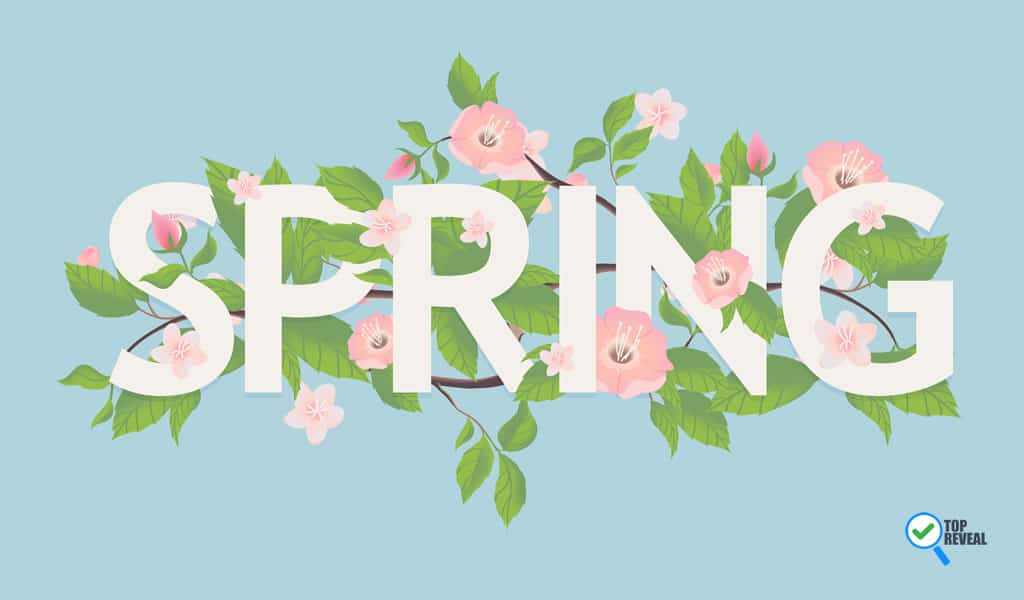 Outdoor Looks That Will Put a Spring In Your Step
Make others feel welcome and start the day off right with these clever decorating ideas:
Wreathes
Welcome guests big and small with a wreath/bird feeder if you want to bring the sights and sounds of the season to your front door. Use branches and flowers from the outdoors, or buy them in colors like sage green or soft, buttery yellow and when it comes to the mini eggs and twine or ribbon you can use complimentary shades or contrast with pops of fuschia or purple.
Play with different hues, like lime green and orange for a vibrant feel or use coordinating colors that compliment your front door for a seamless look. Get more wreath ideas like this from i Heart Naptime.
Easter in All it's Glory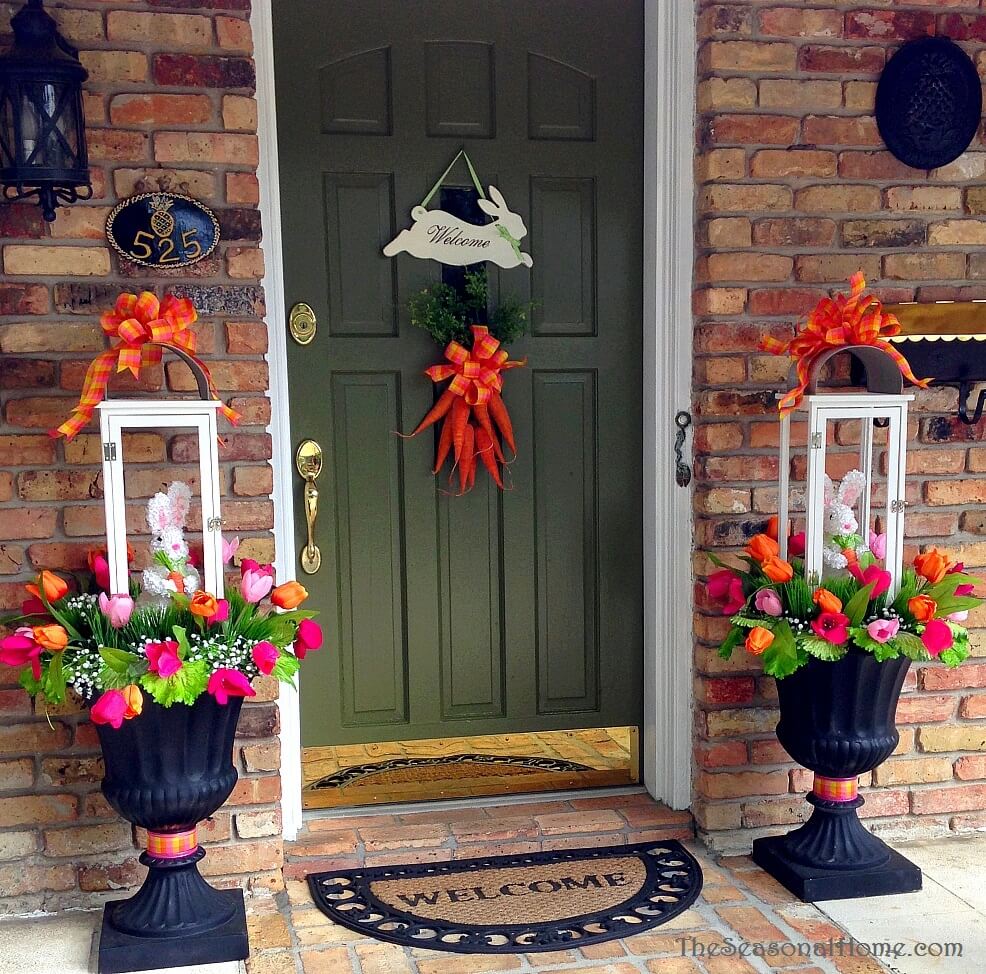 To really create a spring vibe and add an Easter feel to your home don't just decorate the door- decorate your whole front porch if you have one. Place potted plants and lush flowers in eye-catching flowers on either side of the door and use coordinating ribbons to accent other pieces you scatter about, like bunnies in cute little picture boxes. You can even do a faux door knocker made with carrots and ribbon- just make sure to feed your bunny or those carrots might disappear!
Find this design and more at The Seasonal Home
Flowers That Will Last Beyond Spring
This innovative idea will have everyone smiling when they come to your front door. And the best part is the flowers can be fake or real, so they'll last all summer long if you want them to. Using a pretty basket and some pool foam noodles, yes, you read that right, you can create a stunning piece to decorate your front door.
Find this project and others courtesy of Busy Kids Happy Mom.
Sunshine Even on a Cloudy Day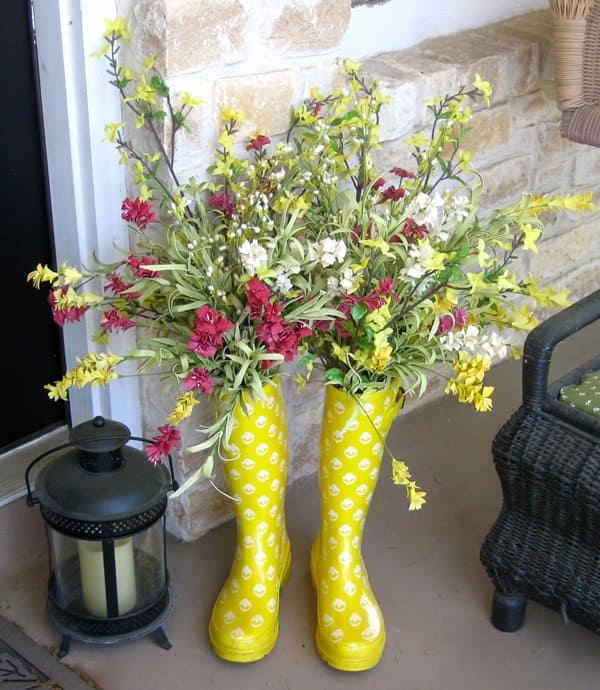 Add a little sunshine to the front of your home with this cute idea! You can use a pair of old rain boots that you have or buy a pair second hand to create this ingenious planter. It will instantly put a smile on anyone's face when they see it and is just the right amount of whimsy for this time of year.
Find this project and others at Twelve Oaks Manor
Indoor Looks That Will Have You Doing Hand-"Springs"
You may not realize it, but there is a way to freshen-up and springify (that's my word for it) every room in your house, from the bedroom to the bathroom. And we're here to show you how!
Halls/Front Entrance: First Impressions are Everything
Happy Halls
Your front hall or entryway is the first thing people see, so grab their attention by using bright floral patterns that feel welcoming and cozy. Strategically place spring pieces, like rain boots and a straw hat near a bench or coat rack and throw in a funkily patterned umbrella for a lived-in look that sets the stage for the rest of your home.
Get more great ideas like this one at Place of My Taste.
Green With Envy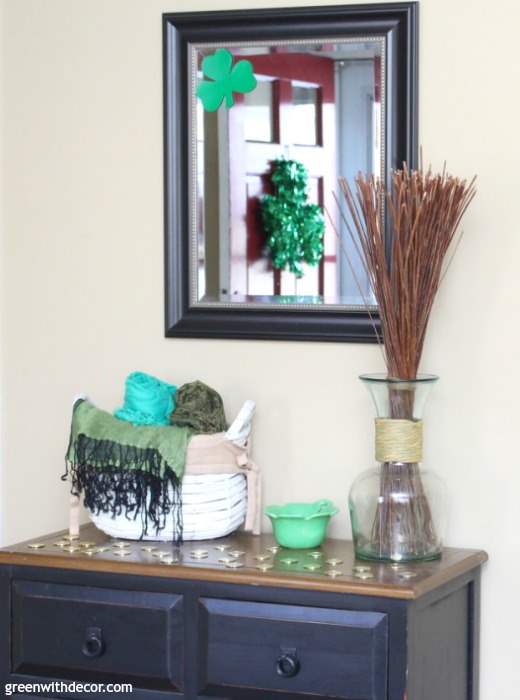 Show everyone your Irish pride as soon as you open the door by adding key pieces to the foyer. Subtle decorations, like a shamrock on the hall mirror or a few to accent the stair rails will have friends and family dancing a jig when they come over. These pieces are fun, polished and scream spring.
Find this idea and others at Green With Decor.
Living Rooms: Brighten Up Everyone's Day
Flower Power
Update a traditional living room with a signature color, like plum, and some floral and striped patterns to bring the outdoors inside and instantly brighten the space. Choose throw pillows in linen or cotton fabrics that feel cool and inviting against your skin and in colors and patterns that compliment each other. Then complete the look with a nature-inspired picture that ties all these elements together.
Find this idea and other at the Happy Housie.
Hippity Hoppity Furnishings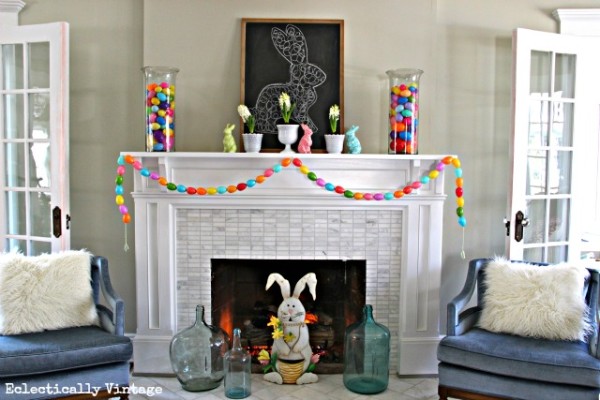 Anyone who has kids or likes whimsical decor can easily add some Easter touches to their living space. Pick a focal point, like the fireplace and adorn it with colorful eggs in sleek cylinders and drape garland made from eggs (or mini chicks) across the fireplace mantle. The trick is to blend these pieces for a cohesive and delightful look that will have friends and family itching for an Easter egg hunt!
Find this project and others at  EclecticallyVintage.com
Show Mom Some Love
Paint some gold leaf on small pots or vases and fill them with fresh flowers to ring your fireplace for Easter or Mother's Day. You can change the flower variety for a constant new look that will add some lovely scents to the room. It's a simple, inexpensive way to say goodbye to that drab winter air.
Projects like this and others can be found at By Wilma
Kitchen: Feed All Your Senses
Fresh as a Daisy…or Sunflower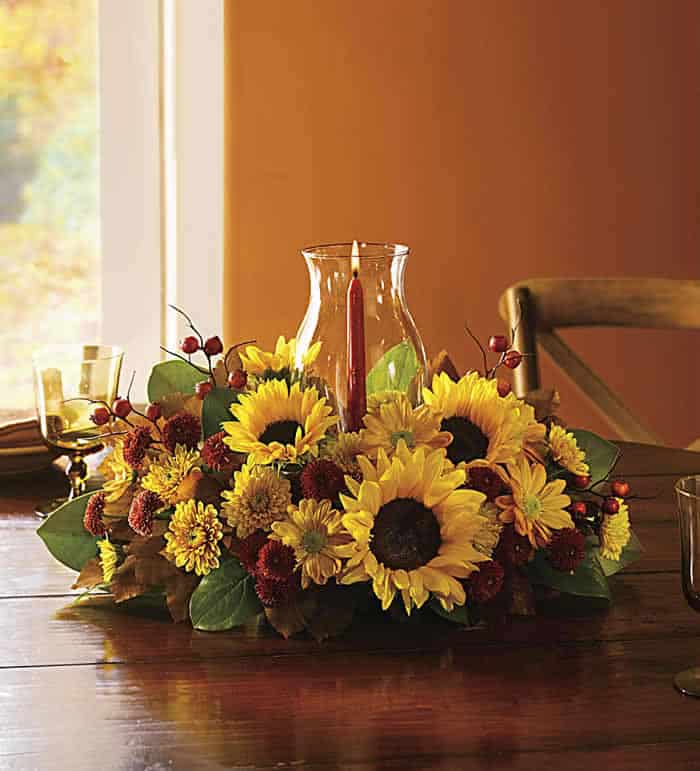 Take a neutral kitchen and turn it on its ear with pops of spring colors that are sure to keep loved one's content and wanting to stay long after the party's over. Sunflowers conjure up feelings of joy and are the perfect accent to gray, white or tan kitchens. Add fresh sunflowers to a bowl as a centerpiece for your island, add some bright yellow serving spoons to your counters and finish it off with flowered window treatments to go from drab to fab.
Find this look atTeleflora
Eggs-cellent Decor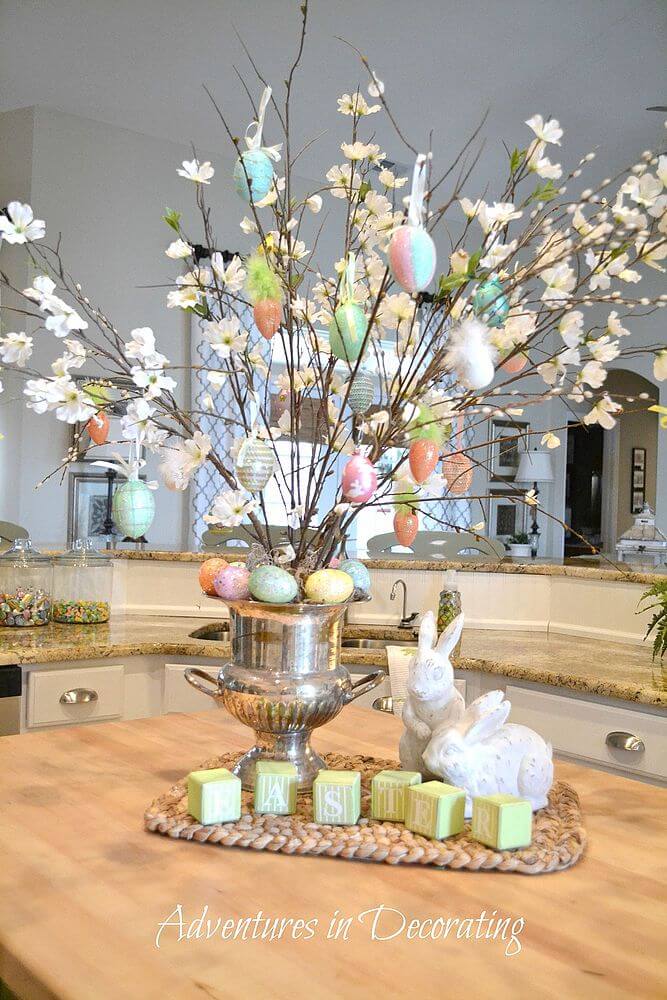 Your kitchen will be the place to gather once everyone sees this unique and elegant Easter-inspired centerpiece. Perfect for your island or table, it is an upscale take on one the most beautiful holidays of the year. Use a polished metal bucket and colr your eggs using crystals and soft colors that compliment your existing decor for a show-stopping piece everyone will want to duplicate.
Project courtesy of hometalk.com
Dining Room: Eat in Style
Set the Mood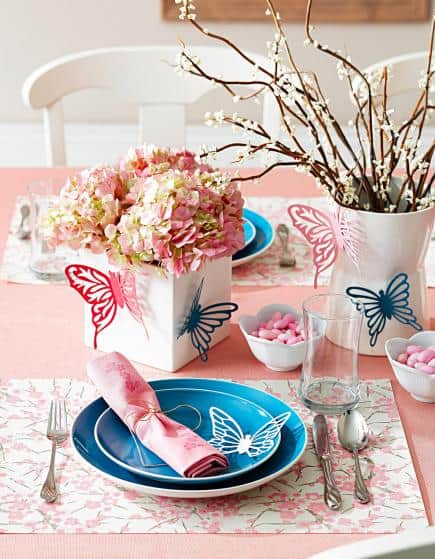 Spring is all about getting back outside and enjoying the fresh air, but to keep that feeling when you come back in to eat try dressing up your table with this polished, vibrant decor.
Pick flowers in pretty shades of pinks and orange and then mix and match the runners and napkins for a look that doesn't look like you're trying too hard.
See more ideas on Midwest Living
Beautiful Bunnies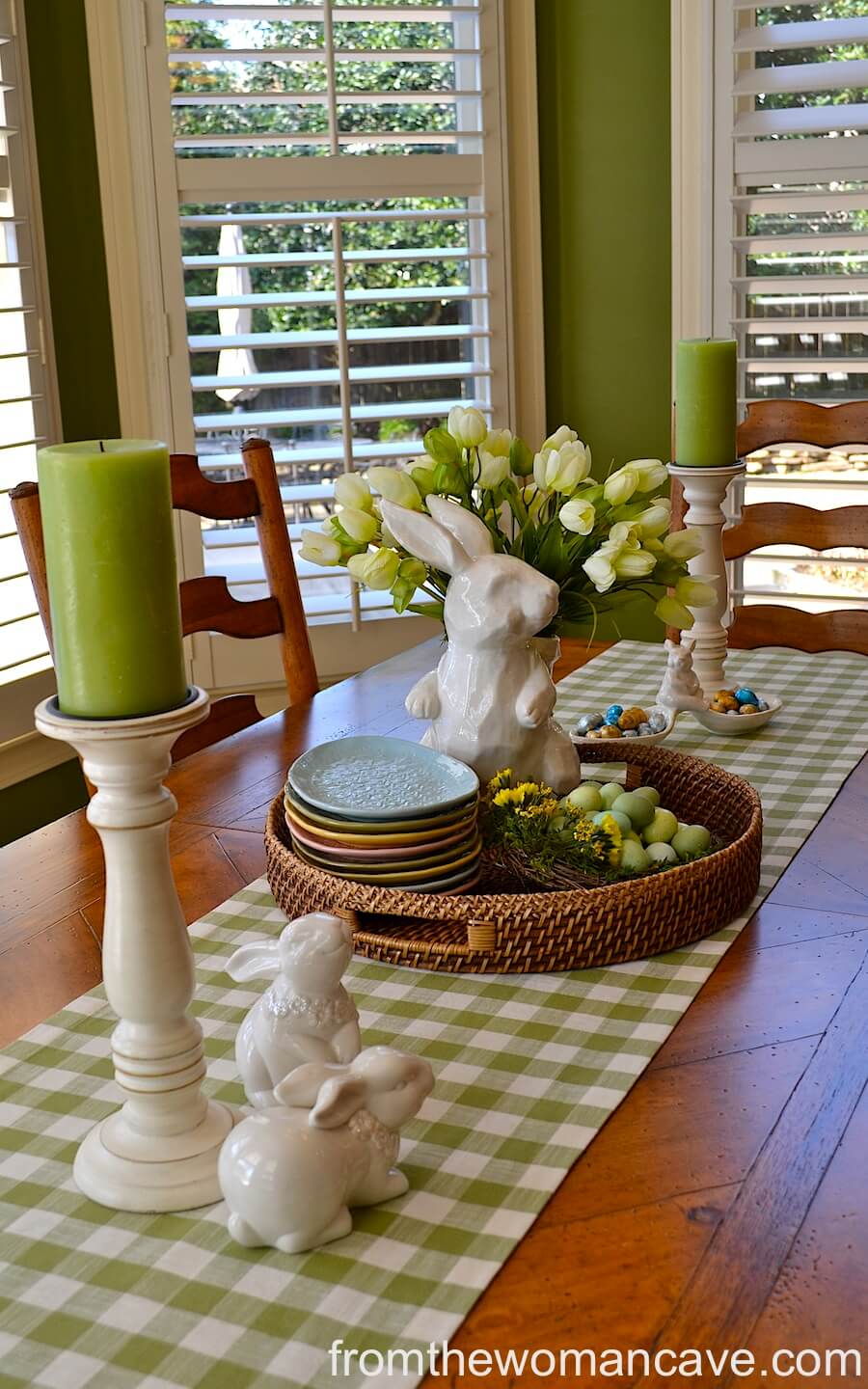 Dine in style using a chic table set up like this one and we guarantee every day will feel like spring. Whether you paint the walls to match the checkered table runner or not this look will still impress everyone who enters it. You can use kelly green or any other color form springs eclectic palette for the runner and use porcelain or glass bunny accents. Add some eggs colored a lighter shade of the one you choose for an ombre look that ties it all together.
From feelitcool.com
White and Bright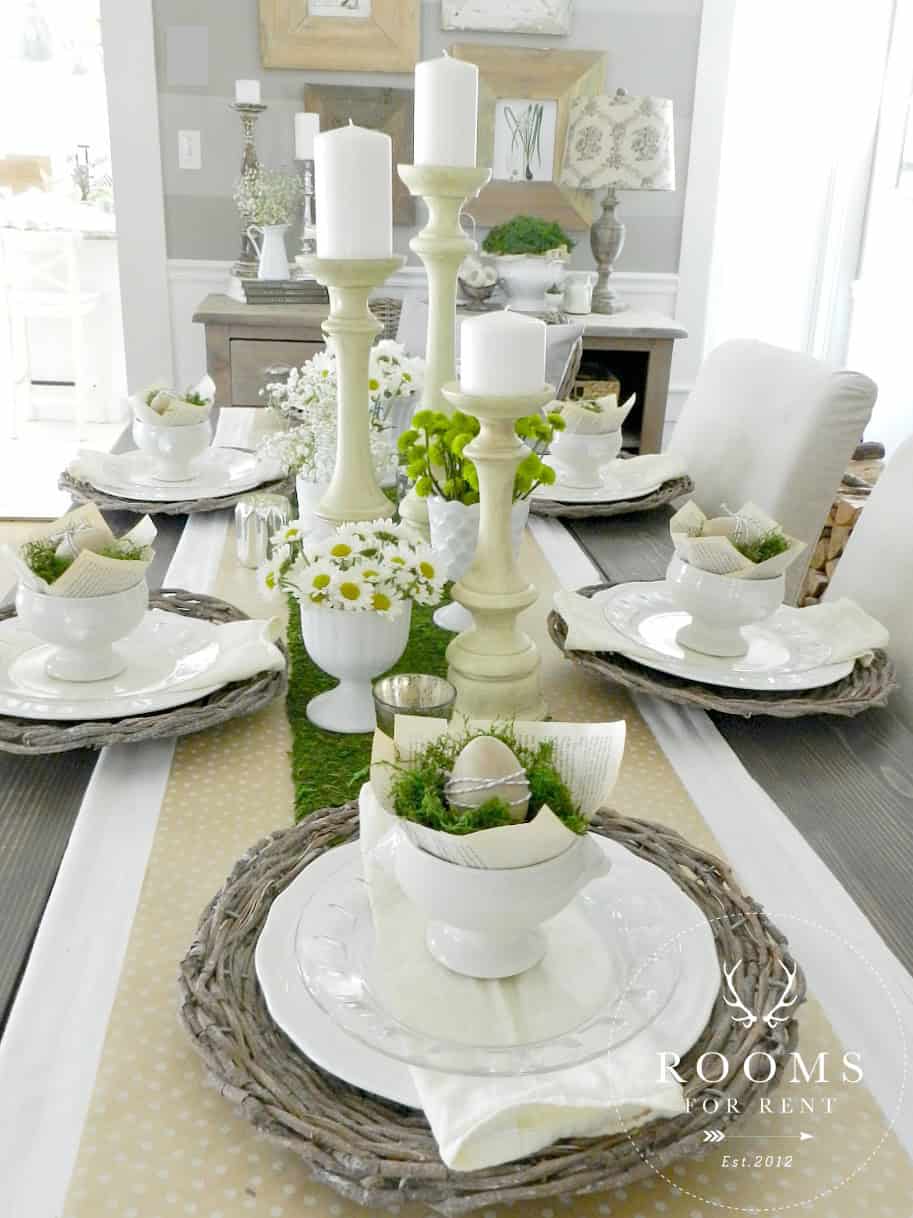 White, when done right can add a dash of class and instantly make a room feel cleaner and brighter- and that's what spring is all about. Use rustic elements, like branch placemats you can easily make, along with fresh cut daisies and pops of green moss or grass for a striking set-up that will have everyone staying for seconds!
Get this project and others at Rooms For Rent.
Bedrooms: Cozy, Not Stuffy
Pretty in Pink
Your bedroom is your haven, so you want it to be cozy without feeling drab. The easiest way to do that is to add seasonal colors and fabrics to your bed and walls. Fabrics like jersey are perfect for sleeping on; choose a nice neutral blanket and accent it with pastel pillows or even fresh flowers on your nightstand.
And if you really want to take it up a notch use a stencil to paint cherry blossoms on an accent wall.
From Homecrux
A Little Goes a Long Way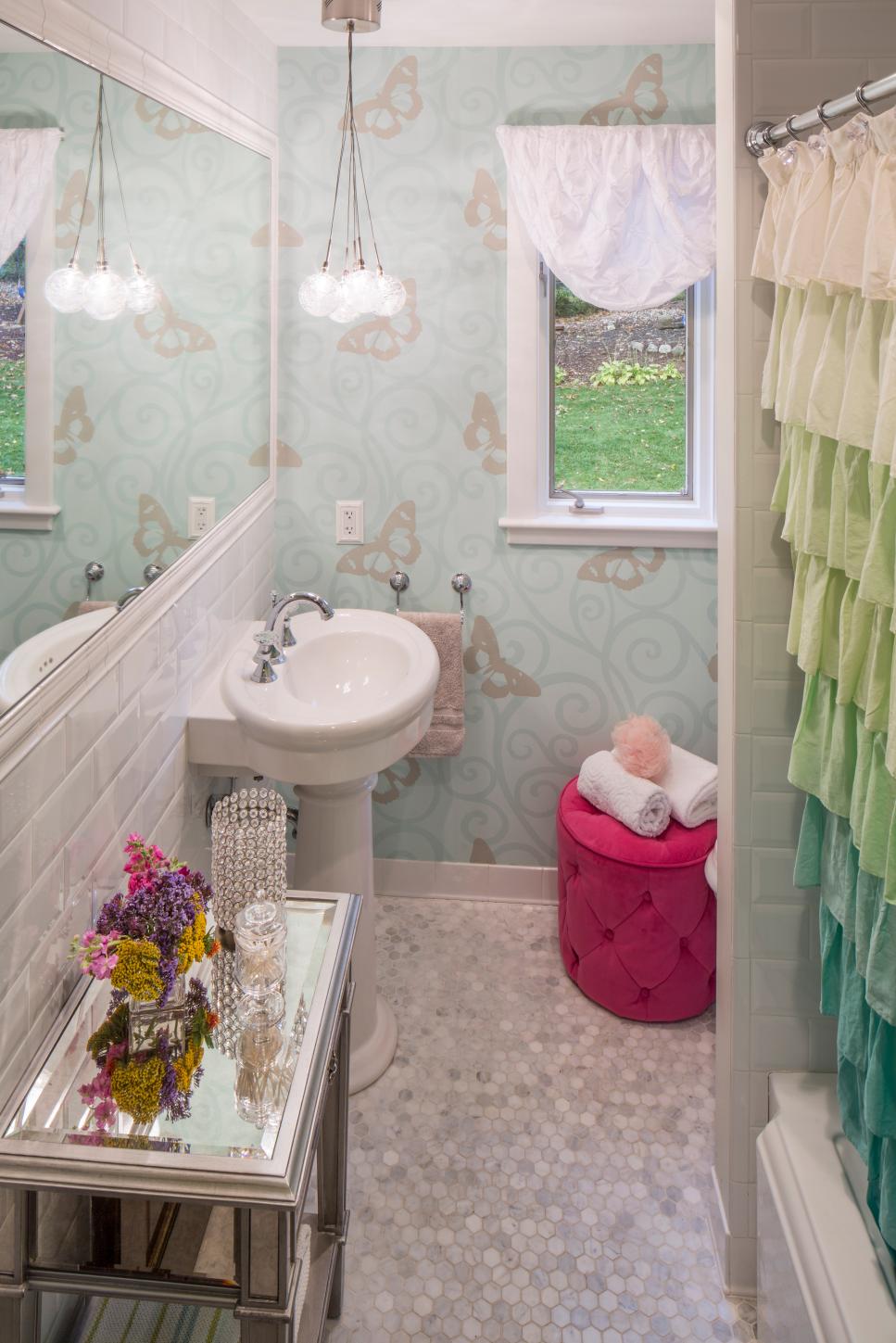 Your bathroom should always look and smell fresh and that's easier than ever to accomplish once spring arrives. Add pleasant aromas by adding scented flowers or plug-in and place towels or floor mats in a sage green or buttercup yellow for a wow factor guests will appreciate.
I hope my Spring DIY Ideas are inspiring and helping you get your creative juices flowing and put a spring in a step! Whether you decorate one room or all of them, just know there's no right or wrong way to decorate- just enjoy it!