If you want floors that are truly clean (like, so clean you can eat off of them), nothing is better than a steam mop. These appliances give you a proper, deep cleaning traditional mops can't, making your floors sparkly and safe. Lucky you, our top steam mop review has everything you need to find the perfect one for you and your family.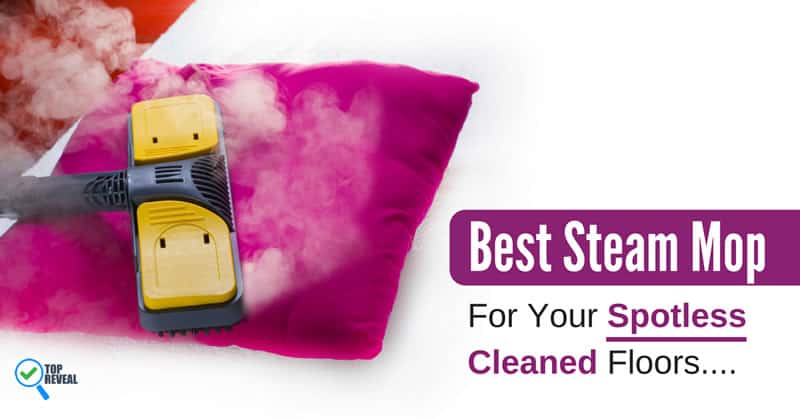 Our Top Steam Mop Recommendation
While all the mops on our list will get the job done our top recommendation goes to Bissell 1940 PowerFresh Hard Floor Steam Mop. It provides a serious clean with plenty of features and characteristics that you are sure to love.
It is easy to use, durable and offers that deep down clean that you are looking floor. Killing 99.9% of germs on your floor and getting out the deepest stains on your floor are strengths of this product that cannot be matched.
Our Top Steam Mop Reviews: The 5 Best Models
While all steam mops are ideal for use around your home, there are certainly a few models that come out as top competitors. Here, we have the best five options that you could find.

This is one of the best steam mops out there, simply put. This model has features in it that make it uniquely useful past the utility of many other steam mops. Some of these characteristics are:
Scrub, Shine, Sanitize: The handy mop on the end of this product is nothing short of fantastic. It scrubs your floor clean, kills 99.9% of germs, and gives it a perfect sparkle. I think we all know the feeling of satisfaction a floor that clean can bring.
Variable Steam Control: Not all floors are created equal – but this mop is prepared to handle them all. You can adjust the amount of steam coming out of the head so that you are getting just the right amount of steam for whatever space of floor you are working on.
Easy to Fill Water Tank: The water tank is easy to reach for all ages and can be refilled at any time during use. So, no need to have to stop halfway through your work and restart. Just keep on going!
There's a reason that the word "genius" is in the name of this steam mop. With this package, you'll get a full bundle that includes benefits like the best steam mop for hardwood floors: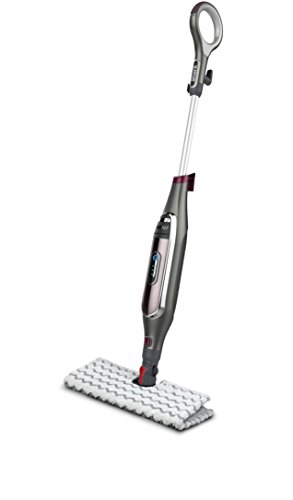 Three-Setting Controls: Getting too much (or too little) steam out of your old steam mop? No worries for the Shark Genius. There are three different levels of steam that you can use on your floor to get the right clean for you.
Never Touch a Dirty Pad: We know you like clean – that's why Shark gave you Touch-Free Technology. The very reason you were steam mopping was to get away from all that dirt and grime! Not play with it!
Steam Blasting Tech: You can get rid of grease and other sticky messes with this mop because of the Steam Blaster. This gets you a deep down clean for all of those bad spots you never thought you would get rid of.

We're doubling down on Shark here – and for good reason. Shark has another steam mop here that will get your home cleaner than any other and more easily, too, due to its features like:

9% Sanitization: Kill just about everything living down on the dirty floor with this steam mop. The power of steam is all it takes for you to get as clean as possible floors – and without the use of any chemicals!
Swivel Steering: This mop has a sharpened swivel so that you can mop in every nook and cranny with next to zero effort. This is something you'll be grateful for if you've ever used a clumsy, older steam mop. You know what we're talking about.
Electronic Steam Control: Get just the right amount of steam to come out of your mop head with the handy electronic controls. No floor is the same so it is important to be able to get the right amount of steam on your own floors. Clean is good; the right clean is better.
As if our review wasn't enough, customers on Amazon are doubling down on our thoughts. Over the course of 100 reviews, this mop has earned itself 4.4 out of 5 stars with those who have used it. "Love" is a word that you can't avoid seeing coming out of these writings and for good reason. Everyone very clearly recommends it – and so do we.

Bissell scores another product here on our list of steam mops, pointing to a company focused on producing quality cleaners. This model provides a ton of value:

Clean and Vacuum All at Once: Why go over the same surface twice when you can handle it once? That's right: this product does both. Not only does this make your vacuuming more efficient, but it will keep heavier debris off of your steam pad to make your steaming better, too.
Large Capacity Tank: If you've got some serious space to clean up, this Bissell is ready for you. It has a water tank plenty big enough to keep you happy with how much surface you can cover in so little time.
Easy Adjusting Options: Make this mop your own by adjusting the steam power that you are getting as well as the handle for getting the right height for you. While most steam mops are built for everyone, this one is just for you.

With their own steam mop, Hoover makes an appearance on our list. This product is just as valuable as any other and would be a welcome addition to any home. Get the deepest clean on your hard floors with features like:

Twin Tank Technology: If you are the kind that wants to use solutions to clean your floors, that's no problem for this mop. It has one tank for water and another for any chemicals you want to use. Two types of clean, one simply product.
Handheld Steaming: The steamer actually detaches from the rest of the unit so that you have a handheld steamer right in your hand. This makes it easy to clean just about any surface you can think of! And it's got 12 accessories with it.
Directed Steam for Tough Cleaning: Most of us know the frustration that can come along with a persistent stain on our floor. But that's no problem for this Hoover product due to its Steam Stream Technology that cuts right through the worst stains.
Benefits of Steam Mops
Steam mops are great for a variety of reasons. A steam mop can clean a hard floor much deeper than any vacuum, wipe, or towel by utilizing the power of steam. Steam has two major benefits that are essential to truly make your floor spotless.
First, a steam mop simply extracts more dirt and grime out of your hard floor surfaces. Your floors have pores in them that dirt loves to hang out in, giving your floor a worn look. With a steam mop, you can get into those pores and force out that pesky filth to give even the oldest of floors a brand new shine.
Second, the antibacterial powers of steam cannot be understated. There are all sorts of harmful microbes and germs that live on your floor. Yuck. But, with the antibacterial strength of steam, you can use your steam mop to kill off 99.9% of the bacteria on your floor for a whole new level of clean.
Buying Considerations – What Should I consider?
There are plenty of things to consider when you go to choose your own steam mop. A few of the most important things to consider are:
Adjustable Steam Flow: Some might desire the ability to move between different levels of steam utilization. Some steam mops have this feature while others do not. So, if this ability is important to you, be sure to get a mop that has this capability.
Extra Scrubbing Ability: Some of these mops have more harsh scrubbers than others. Depending on the type of cleaning you are looking for with your mop, it may be prudent to get a mop that has a heavier duty scrubber rather than just the steaming cleaner.
Price: How much the mop costs is, of course, something to consider. Some steamers are cheaper with the same cleaning power as others while some cost more due to their extra features.
Tricks and Tips
Tip 1: Make sure you wait for the steam to be coming out of the head of your mop! It takes a second for the water to heat up and start cleaning your floor so be sure to have a little patience at the beginning of your cleaning.
Tip 2: Clean your pads! Using a clean pad on your floor should go without saying, but it is important not to forget. Depending on which product you own, you may have to wash your pads or get new ones altogether.
Tip 3: Add pleasant smells to your clean! Add some lemon juice, vinegar, or essential oils into your water tank to give your steam a lovely smell.
Wrap Up
Any home with hard floors deserves a steam mop. The only way to get your hard floors to a serious level of clean is with one of the best steam mop options that we have given you here. For the best clean, you want the Bissell 1940 PowerFresh Steam Mop but any of these mops are sure to give your floors a brand new sheen.
A steam mop not only clears up stains and other tough messes but also kills virtually all germs and bacteria that live on your floor. With your new steam mop hanging around, you'll be able to enhance the cleanness of your home like you never had before.